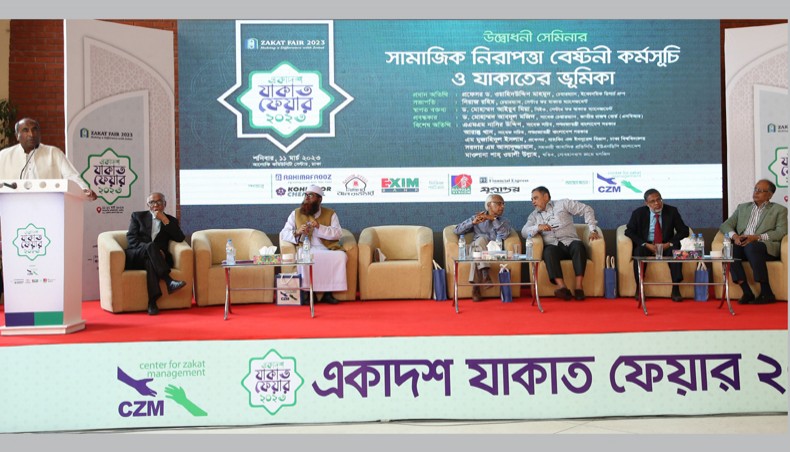 With the theme of 'Making a Difference with Zakat', a two-day Zakat fair began in Dhaka at Aloki Community Centre at Tejgaon- Gulshan Link Road in the capital on Saturday.
Eminent economist and chairman of Economic Research Group professor Wahiduddin Mahmud inaugurated the fair, organised by Centre for Zakat Management for the 11th time.
The organisers said that the objectives of the fair were to motivate people to give their Zakat in an organised manner, clarify various issues on Zakat and share experience of various organisations working with Zakat funds for poverty alleviation.
Inaugurating the seminar titled 'Social Safety-net and Role of Zakat', Wahiduddin Mahmud said that Zakat could be a very viable source to finance social safety-net programmes for the poor and the needy. 'We must consider it in our policy making level,' he said.
Former chairman of NBR, Muhmmad Abdul Mazid presented the key-note paper in the seminar.
The seminar, chaired by Salahuddin Kasem Khan, trustee secretary of AK Khan Foundation, was also addressed, among others by former secretaries of the government AMM Nasiruddin and Arastoo Khan, assistant resident representative of UNDP Bangladesh Sarder M Asaduzzaman, Dhaka University professor M Muzahidul Islam, Khatib of SobhanbagJame Masjid Maulana Shah Mohammad Waliullah chairman of CZM Niaz Rahim and CEO of CZM Mohammad Ayub Miah.
Organisers said that the fair would remain open until 7:00pm on Sunday for all. People can have the opportunity of Zakat consultation and calculation service at the fair.
Besides, there are stalls of various Zakat/charity based organisations, book publishers, Islamic financial institutions etc at the fair.
Apart from the inaugural seminar, another exclusive seminar and QA session for women titled 'Role of Women in Establishing Salat and Zakat' was held on the same day.
On the second day, a seminar titled 'Role of Imams/Khatibs in Institutional Management of Zakat' will be organised in the morning and a roundtable discussion titled 'Corporate Social Responsibility: Integrating Zakat and CSR Fund' will be organised in the afternoon.
Arastoo Khan will moderate the roundtable discussion while Salehuddin Ahmed, former governor of Bangladesh Bank, will attend the discussion as chief guest.
Besides, eminent economists, development practitioners, educationists, Shairah scholars are expected to join the discussion.
The event is being sponsored by EXIM Bank, Rahimafrooz, Kohinoor Chemicals, Rahim Steel and other renowned corporate houses. Bangla Vision, The Financial Express and the daily Jugantor are the media partners of the event.