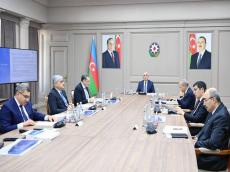 The Supervisory Board of the Azerbaijan Investment Holding held a meeting, Azernews reports.
The agenda of the meeting, chaired by Azerbaijani Prime Minister and Chairman of the board Ali Asadov, discussed in detail the report on the results of the activities of portfolio companies transferred under the management of the holding in 2022, including financial results, the rules for determining key performance indicators and budget planning for portfolio companies, as well as corporate governance standards of Azerbaijan Caspian Shipping Company CJSC, AzerGold CJSC, Baku Metro CJSC, BakuBus LLC and Baku International Sea Trade Port CJSC, other issues.
Reports of the Chairman of the Board of the Azerbaijan Investment Holding Metin Eynullayev and Chief Executive Officer Ruslan Alikhanov were heard.
At the end of the meeting, decisions were made on the issues discussed, relevant instructions were given to the board of the Azerbaijan Investment Holding.
Connect with us. Get latest news and updates.
Source link