KUALA LUMPUR, March 1 — Malaysians' concern about their mental health have reached nearly the same level as that of their physical condition, according to a new Ipsos poll.
In the survey, 86 per cent said physical health was a priority, ahead of the 84 per cent who said so about their mental health.
The survey by market research firm Ipsos found that the broadening understanding of health has led to a greater appreciation of the importance to care for one's mental wellbeing.
"While mental health is a challenge for all ages, it is the youth who feel this most acutely," it said in the report of the 2023 edition of its Global Trends survey released today.
Among youths aged 16 to 24 from all countries, 41 per cent strongly agreed that more needed to be done for their mental health, while 42 per cent of those aged 25 — 34 felt similarly.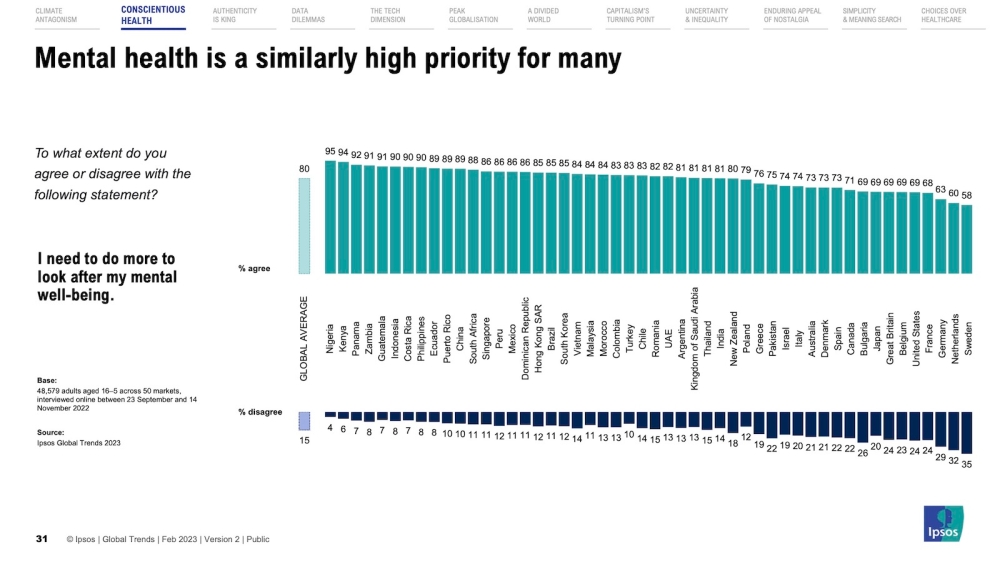 "Covid-19 has put pressure on everyone. Even those not directly harmed by the most severe effects of the pandemic have had their thoughts dominated by the virus and how it, and its impact on the economy and society, might affect them and those they care about.
"As well as the pandemic, negative factors over the past few years — such as economic uncertainty, the climate crisis, and global conflict zones — have added to people's worries," Ipsos said.
Besides that, 74 per cent Malaysian respondents expressed a strong sense of nostalgia for the country's past.
"The rosy retrospection of nostalgia provides fertile territory for brand activations," Ipsos said.
The example given was of how food delivery company Foodpanda celebrated Malaysia Day last year by evoking nostalgia through providing customers with a variety of kuih made by the participants of its HomeChef initiative.
Ipsos attributed the rise in nostalgia to upheavals in the economy, the Covid-19 pandemic, climate crisis threats, and international conflicts.
"For some, there are also other perceptions that life is not what it used to be: the more globalised the world we live in, the more technology intrudes in our lives, changing the way children experience childhood.
"Some people may want to turn the clock back, but others view these changes as signs of developmental progress," it noted.
At 79 per cent, Malaysian and Singaporean respondents were the respondents who most felt the need to be alone.
The need to spend time alone was one of three indicators of a desire for simplicity, with the other two being wishing that life was simpler and wanting a slower pace of life.
Ipsos identified the six most impactful factors influencing this trend: community migration, alternative value structures, overdevelopment, pervasive technology, a greener way of thinking, and increasing geopolitical conflicts.
"By many objective measures, life is busier today than ever," it noted, adding that busy and stressful lives mean that people need more time to themselves.
Ipsos said a total of 48,541 people between the ages of 16 and 75 from 50 countries were interviewed between September to November 2022 for the survey.
Source link