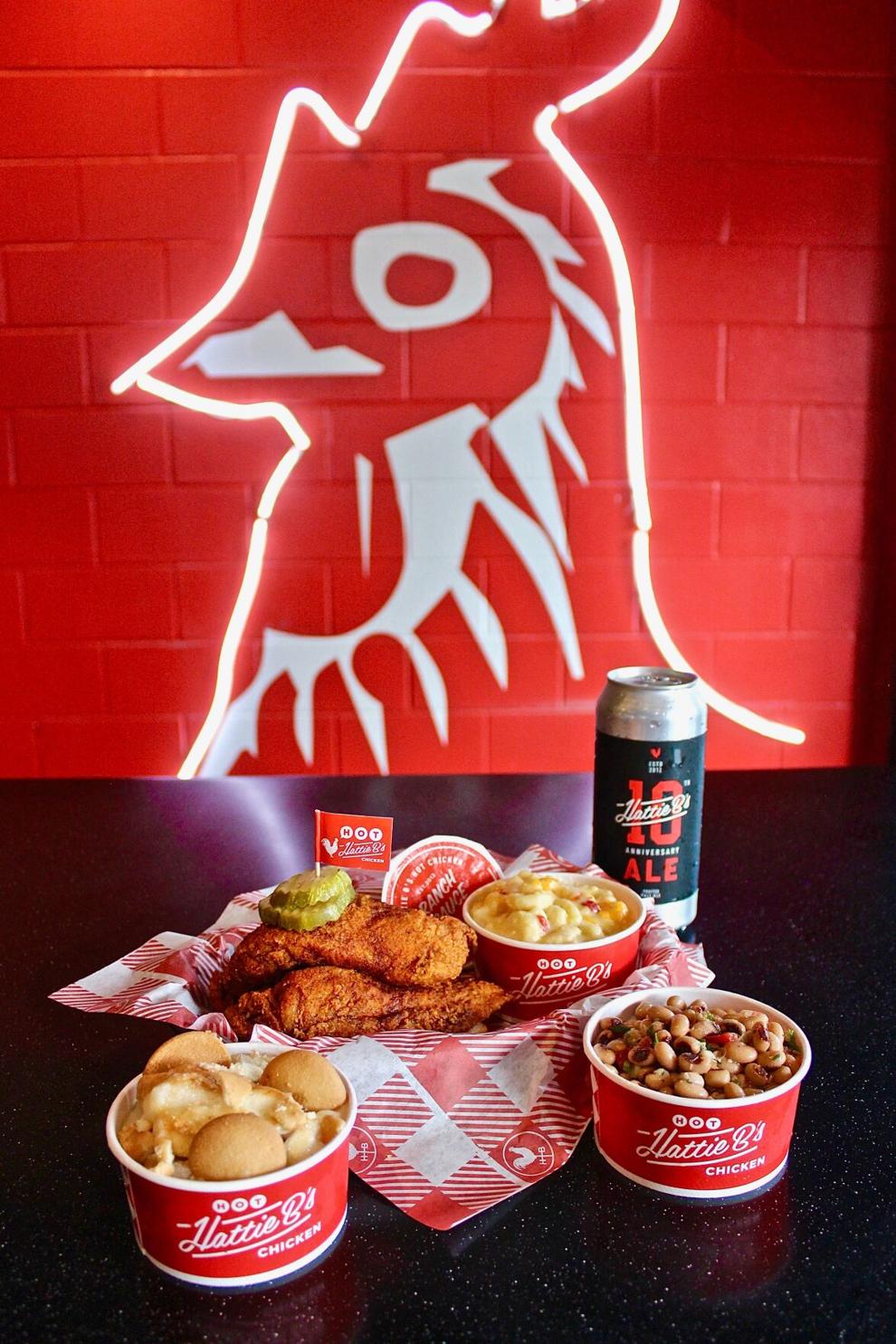 It's hard to believe that Nashville hot chicken slingers Hattie B's Hot Chicken and craft beer brewers Fat Bottom have already been around for ten years, but 2012 was a very good year for Nashville food and bev. From modest beginnings in Midtown and East Nashville, both companies have expanded and risen in stature in the industry for their business acumen and commitment to quality, and both of them have celebrations planned to share their good fortune with local fans.
When Nick Bishop and his son Nick Jr. decided to make a separate business out of the popular spicy fried chicken dish that they were serving at their Franklin diner, Bishop's Meat & Three, hot chicken was still mainly a local phenomenon promoted by individual independent operators at spots like Prince's and Bolton's.
Bishop pere et fils had a vision for something bigger for Hattie B's (named after three generations of women in the Bishop family,) propelled by Nick sr.'s experience as an executive with Morrison's Cafeteria. They moved into a small space on 19th Ave in Midtown, long before the high-rise towers rose up all around their squat building. They also employed a talented young chef named John Lasater to run culinary operations and develop recipes and procedures to turn hot chicken into a fast-casual opportunity.
It didn't take long for lines to stretch down the sidewalk as tourists and locals alike took to the convenience and the damned fine chicken at the original Hattie B's. The Bishops set an eye on expansion, adding new Nashville locations on Charlotte and on 8th Ave South within a few years. Since then, Hattie B's has continued to grow with a total of ten locations across the country, including downtown Nashville at 5th & Broad, two spots in Atlanta (including one in West Midtown that just opened this week), as well as locations in Birmingham, Memphis, Las Vegas and Dallas.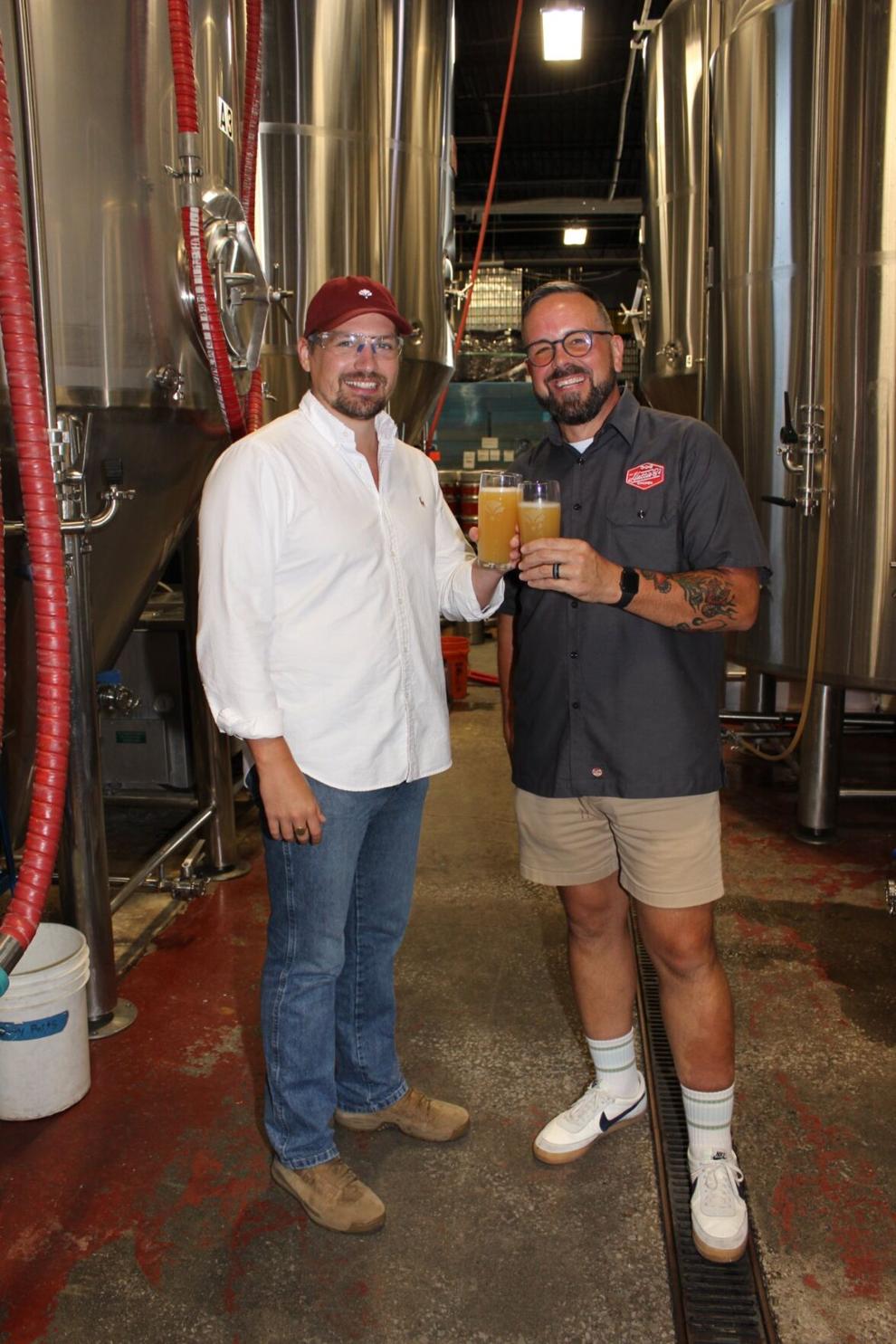 To celebrate their latest coop and ten years of success, Hattie B's will be offering a anniversary plate special at all of their Nashville locations from Aug. 9-14. Drop in for a large order of tenders (any heat level), your choice of two sides and a dessert for just a Hamilton. (That's a $10 bill if you've forgotten what cash looks like.) Additionally, Hattie B's culinary director Brian Morris has collaborated with Bearded Iris co-founder Paul Vaughn to create a special Anniversary Ale that will be available beginning Aug. 9 through at least through the end of month in all four Nashville Hattie B's locations, plus the newest Atlanta home of hot chicken. Both Bearded Iris locations in Germantown and Sylvan Supply will offer Anniversary Ale in cans until they run out of the special batch. Hattie B's is also donating ten percent of sales from Anniversary Ale to Big Table Nashville and 10 percent of sales on their Aug. 9 anniversary to Nashville Rescue Mission, Luke 14:12, Second Harvest Food Bank and Nashville Food Project.
The celebratory beer is a delicious fruited pale ale, brewed with orange juice concentrate and brown sugar to complement some of the flavors that you might discover in hot chicken recipes. At 4 percent ABV, you don't need to be afraid to drink an extra one with your fiery fowl if you need some extra cooling.
Take Nick Jr.'s advice: "There's nothing better than hot chicken and cold beer, so we set out to create a light, crisp, crushable brew with the good folks at Bearded Iris to celebrate the end of summer, hot chicken and our 10-year anniversary! We can't wait for everyone to try it!"
Morris plans to fire up the old food truck and take it over to Bearded Iris headquarters at 101 Van Buren St. on Friday, Aug. 12, starting at 5 p.m. for an evening of hot chicken and beer. DJ Rate will be providing the tunes while Hattie B's legion raises a celebratory toast of Anniversary Ale.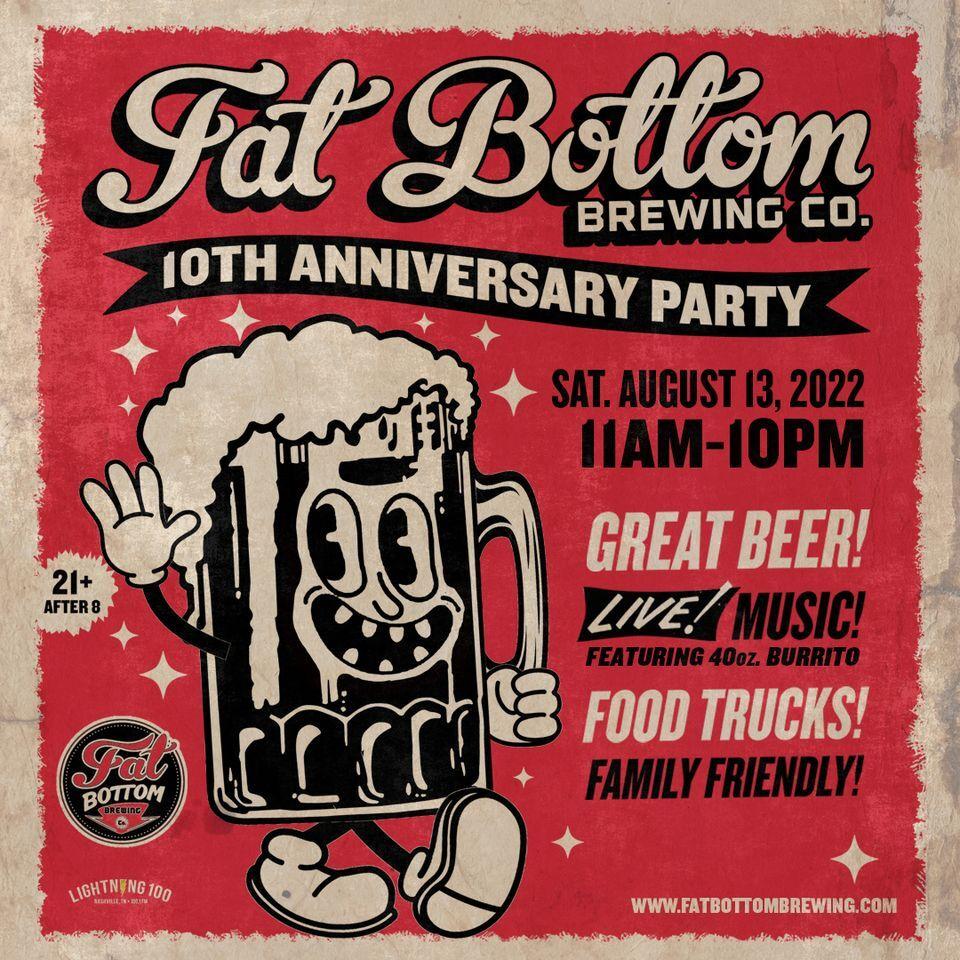 Speaking of great craft beer, Fat Bottom Brewing opened up East Nashville's first brewery on Main Street in the former Fluffo Mattress factory building in 2012 and stayed there until moving into a new modern facility in the Nations in 2016. While the patio and small indoor dining area on Main was a fine place to enjoy some great food from the Fat Bottom kitchen, it was nothing compared to their new space with its expansive beer garden and patio spaces, plus a tasting room and much more production space for brewing.
In fact, there will be plenty of room to throw a gala 10th anniversary party on Saturday, Aug. 13, from 11 am until 10 p.m. at their brewery at 800 44th Ave North. The family-friendly event will feature face painting and balloon artists for the kids from 11 a.m. until 2 p.m., followed by brewery tours, tailgating games and food trucks from 2 to 7 p.m.
At 7 p.m., the live music begins, featuring 40 oz. Burrito, a Sublime tribute band. You'll need to take the kiddies home at 8, though, because that's when the event turns 21+. As far as beer goes, you can pre-order a commemorative cup for $15, which includes bottomless Fat Bottom beers during the party, and there will be a limited number of bottomless cups for sale the day of the event for $20. Grab your cup in advance by registering at the event website and don't miss out on this fun-niversary party!
Source link