'Arth' was a mighty rebellion against conventional mores wherein women seek validity from a male relationship. After this milestone film, women were just portrayed as glamourised dolls until 'Queen', 'Thappad' and 'Darlings' are now changing the script of the female lead in Hindi cinema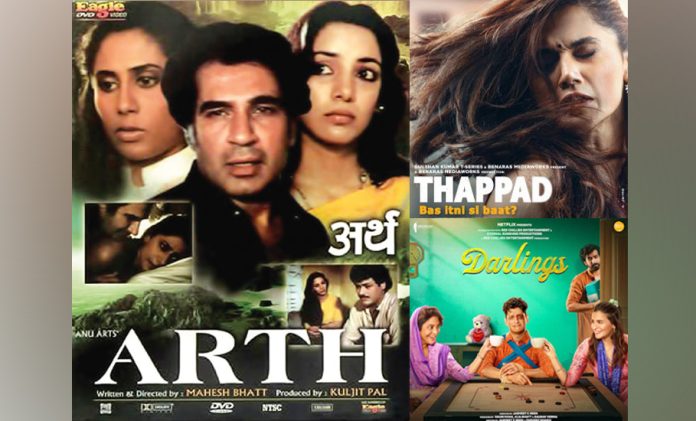 In a nuanced, non-preachy way, Arth is a milestone in women's empowerment. 'Chhapaak', 'Thappad' and OTT's 'Darlings' are carrying forward the legacy of this Mahesh Bhatt film
In the depiction of the Indian film heroine, Arth is a momentous cinematic achievement. It's been 40 years since Mahesh Bhatt's semi-autobiographical creation captivated the nation with its searing intensity on Indian marriage and women's rights. In a subtle but honest exploration of human relationships, Arth broke stereotypes of Hindi cinema, exposed the patriarchal curse on Indian women and gave the woman protagonist a voice of her own.
The basic theme of infidelity – a married man straying and getting entangled in a relationship outside marriage – had been explored earlier, too. Yet, it is to writer-director Mahesh Bhatt's credit that he culled Arth as a coming of age of Indian women through an empathetic understanding of the feminine viewpoint.
It revolves around Pooja (Shabana Azmi), an orphan who is entirely dependent on her husband, Inder (Kulbhushan Kharbanda), an upcoming film director. Secretly involved with a successful but schizophrenic actress, Kavita (Smita Patil), the marriage crashes when Inder admits about his affair. Initially, Pooja seems feeble but with encouragement from friends and an ardent admirer, poet-singer Raj (Raj Kiran), she finds courage to begin life afresh on her own terms.
Sati-Savitri no more
Till the late 1960s, the 'Sati-Savitri' image of Indian tradition dominated mainstream Hindi films wherein women remained subservient to the desires of male protagonists and needs of the family. Respect for this self-sacrificing heroine lay only in acquiescing with the moral tenets or sentiments of the men she was bound to in some filial relationship. While some strong women did shine in films like Mother India, Bandini or Guide, even their courage was largely confined to the fortunes of their men or family. Inevitably, a woman character with her own mind was a rarity.
This stereotype was broken to some extent in the 1970s by the likes of Zeenat Aman and Parveen Babi who often portrayed characters that smoked, drank and wore western dresses. However, the boldness or "modernity" of these female protagonists was largely external and rather superficial as these women hardly had any voice of their own. On most occasions, they capitulated before the men linked to them since their roles were more about style than substance. As a result, the women's modernity was often limited to just their wardrobe rather than reflecting a deeper change or progressive attitudes.
Also read: From 'Choli ke peeche kya hai' to 'Besharam rang', not much has changed
In striking contrast, Arth maps the internal landscape of its women characters with remarkable sensitivity, depicting them as individuals of substance and minds of their own. Treating all three principal women characters (the wife, the maid and the 'other woman') with dignity, it reveals that they have strong backbones, ideas and exercise their choices, whether right or wrong, of their own free will.
Mighty rebellion
The film is a mighty rebellion against conventional mores wherein women seek no validity through a male relationship by discarding all emotional and financial crutches to find Arth (meaning) in life. In a nuanced, non-preachy way, Arth is a milestone in women's empowerment. It isn't overt, in-your-face feminism but effectively buries the myth of women being the "weaker sex" and reflects women's resolve to live life with dignity and uncompromising independence.
Sadly, not many films took inspiration from the path-breaking Arth and continued exhibiting women as little more than glamour dolls; their 'modernity' confined to fashionable clothes, trendy hairstyles and flaunting frivolous lifestyles. With the weakening of the New Wave cinema, there was an increasing lack of tastefulness in depicting women and even 'family-socials' of the 1980s propagated revolting images of servile women, as is obvious in film titles like Sadaa Suhagan and Pati Parmeshwar.
The era of the action hero saw women characters being little more than glitzy props or damsels in distress who were designed mainly to satiate the male gaze. Besides a host of Bachchan films hardly helping to improve women's image, even Vinod Khanna, Dharmendra, Rishi Kapoor and Mithun Chakravarty starrers only cemented women protagonists as sex objects. Most song sequences of the period like Hawa Hawaii (Mr India, 1987), Ek Do Teen (Tezaab, 1988) or Dhak Dhak Karne Laga (Beta, 1992) confirm the declining standards.
Back to the past
The onset of a liberalised economy, satellite television and a newer generation of actors also brought little "independence" for women characters. Some of the biggest grossers between 1990s and early 2000s like Hum Aapke Hain Kaun, Dilwale Dulhania Le Jayenge, Dil To Paagal Hai portrayed nothing more than glamourised, westernised versions of the lovelorn women of the 1960s. They pursue no careers, have no definitive voices, mindsets or skills but remain satisfied with being Tu Cheez Badi Hai Mast Mast.
Also read: 'Qala' review: A sensual mood piece, a strange little psychological puzzle
The globalised economy may have allowed greater choices to consumers in the market but it didn't usher a new image for women in films even in the new millennium. Dominated by the Khan Trinity, the new films hardly portrayed women as individuals. Even a cult film like Dil Chahta Hai disappointed as women in the film hardly move beyond traditional roles. While the three male protagonists have distinct identities, the female characters remain trapped in conventional mores, with no individual identity of their own.
Over the past decade, however, as content became the new star with an expansion in entertainment formats and the explosion of the Internet, some films have started exhibiting stronger women on screen. Possibly, the rejection of stereotyped one-dimensional female characters has come about due to financially independent women becoming a large percentage of viewers and with the advent of more women writers and directors.
It is heartening that female protagonists of Queen, Piku and Neerja ushered in sensible feminine characters, enabling a positive curve in the portrayal of women. Films like Raaz, Saand Ki Aankh and Mulk have focused on strong women, become commercial successes and have been hailed for their thoughtful content. That several films with author-backed female characters needed no male superstars to attract audiences, exhibits a refinement in women's roles and maturity in audiences' tastes! Many women protagonists are now being depicted as individuals with courage of conviction and tenacity to stand on their own feet, an ingredient that was largely missing earlier in most Hindi films.
More recently, Chhapaak and Thappad have added greater lustre to the list by carrying forward the legacy of Arth. In particular, Anubhav Sinha's Thappad debunks patriarchy and seems to carry forward the legacy of Arth in tackling the trauma of domestic violence and exposing the unsaid rules of Indian marriage. Besides the fortitude and self-respect of its female protagonist, the box-office success of Thappad is a stinging slap to those who claim that women-centric subjects don't work!
OTT platforms change the scene
The emergence of OTT platforms like Netflix and Amazon have also helped empower the women on screen. The latest example is Darlings, a dark comedy exposing domestic violence and a woman's retaliation against being a "male property". That Jasmeet K Reen could make her directorial debut with a film like Darlings and it got the highest-ever global opening for a non-English language Indian film on Netflix in 2022, is a positive reflection of change in makers' themes and audience tastes.
In sum, the portrayal of women in mainstream Bollywood has been problematic but has started looking up. In the 40 years since Arth, Bollywood has seen the female lead take on many forms. Though often it had been about simpering damsels in distress or sacrificing wife-mother-sisters, recent years have shown a move towards more balanced portrayals.
One hopes the new breed of filmmakers and actors will find the courage to break established mores and push the creative envelope to provide a stronger and more realistic representation of women. Though the gender balance is still skewed, the future looks promising and hopefully 2023 will see Bollywood depict more women protagonists who are in-charge of their own destiny.