[ad_1]
For a short time in the late 1990s, passengers stepping off the train at Newcastle station were greeted with a bold slogan: "Fish Into Chips – From Mackerel Economy To Micro Technology. Invest In North Tyneside – Siemens Did."
As globalisation marched ever onwards after the fall of the Berlin Wall, this painfully British pun spoke of a swagger on the world stage. It referred to a vast £1.1bn microchip factory that the German industrial giant had just opened in the Wallsend area of the city, in a deal greased by taxpayer funding and personally brokered by John Major.
However, less than 18 months after a grand opening by Queen Elizabeth in May 1997 – weeks after Tony Blair's landslide election victory – Siemens closed the site, axing 1,000 jobs and refusing to repay millions of pounds in taxpayer support.
"It didn't go down very well. It was open for about two years, but we spent a fortune on it," says Jonathan Blackie, who led the project locally as the government's top civil servant for the north-east at the time.
"I was pretty much in the thick of it, from arrival to construction, then departure. Sunrise to sunset."
Fast-forward to 2023 and Britain is again pushing into microtechnology amid an investment subsidy arms race involving the US, EU and China. After the world was hit by crippling semiconductor shortages during Covid, billions of dollars are being pumped into developing domestic production to keep supplies of these ubiquitous components flowing.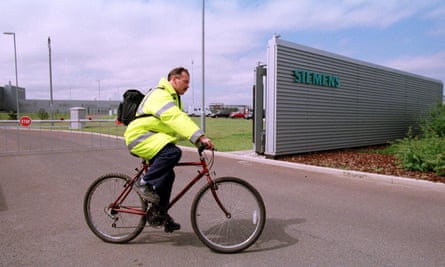 Geopolitical tensions are also a big factor, with the US and China trying to limit each other's industries. The White House last week revealed plans to ban US investment in advanced Chinese microconductors, while in May, China said chips from US manufacturer Micron were a security risk.
In the UK, Rishi Sunak's government announced plans in May to invest £1bn over 10 years in semiconductor research, design and production. However, his plan risks being blown out of the water by the vast subsidies on offer elsewhere, including Joe Biden's $52bn (£41bn) Chips Act, and €43bn (£37bn) of EU subsidies.
Years of offshoring and gradual drift in the UK industry make the task harder, as was highlighted by Newcastle's brief foray into the sector. While Britain has about 25 "fabs" (as microchip factories are known), the UK industry accounts for just 0.5% of global semiconductor sales.
The UK government does acknowledge that chips are important. Last year, it blocked the takeover by Chinese-owned Nexperia of south Wales's Newport Wafer Fab, the UK's biggest such factory (though making relatively low-end chips), citing national security grounds.
Yet it has ruled out trying to match the subsidies on offer in other countries. Paul Scully, the digital economy minister, last week told the Financial Times the UK should focus on strengths such as chip design, in which Cambridge-based Arm is a major player. Arm is planning to float on the New York Stock Exchange, having rejected the idea of a UK listing.
"We are not going to recreate Taiwan in south Wales," said Scully. "It's just not going to happen."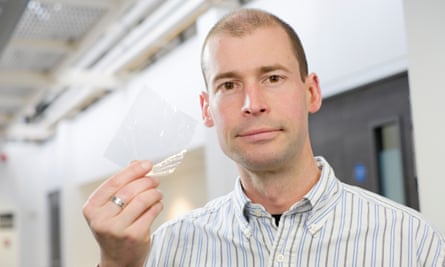 Scott White, founder of Pragmatic Semiconductor, a leading UK manufacturer, said: "Early innovation happened as much either [here] as it did in the US. In the 1980s and 90s we had a good base of silicon manufacturing here. A lot has basically moved overseas now.
"The government at the time didn't do anything to try and stop that. There was basically no support to try and retain that in the UK, so it gradually drifted overseas."
Based in Cambridge, with production facilities in County Durham, Pragmatic has incorporated a US business to take advantage of Biden's multibillion-dollar microchip subsidies. While broadly supportive of Sunak's attempts to keep up, he warns that investment incentives are vital.
"We could go to the US to get significant incentives – or the EU, or India, or other places. It drives an interesting decision: while we'd love to scale up in the UK, if we don't have the same support incentives as elsewhere, how do we make case to our shareholders to do it just because we're British?"
Investments in the semiconductor business are grounded in economics and geography. Fabs require large amounts of space, skilled workers, energy, access to water, and transport infrastructure. As globalisation advanced and China opened up to the world in the 1990s, offering new, low-cost competition, the industry steadily migrated offshore.
From a relative standing start in the 1970s, Taiwan in particular has grown to dominate the industry, with its national champion – Taiwan Semiconductor Manufacturing Company (TSMC) – accounting for 50% of the world market thanks to its dominance in making the most advanced chips. Rather than compete, most US and European manufacturers chose to ship TSMC's products across the world instead. Yet with growing fears of a potential military conflict between China and Taiwan, many firms are reassessing the trade-off between lower costs and security of supply.
"Covid really flagged how critical microchips were as an input and how concentrated production was in these two countries [China and Taiwan]," says Peter Arnold, UK chief economist at accountancy firm EY.
"One of the hot words post-pandemic is 'friendshoring' – so actually it may not matter that you don't produce it domestically, if you can source it from a country that is pretty reliable. But the risk is there. We know that during the pandemic all sorts of trade barriers were put between what were longstanding allies around all sorts of products. A risk-reward trade-off needs to be made."
In the 1990s, warnings over the offshoring of critical UK industrial production were largely ignored. And efforts to attract grand foreign direct investment projects were enthusiastically pursued in the name of regional economic development.
After luring Nissan to open its European car manufacturing hub in Sunderland in 1987, ministers scrambled to replicate that success by getting overseas firms to invest in places struggling with the loss of the coal, steel and shipbuilding industries.
"It was a symbolic milestone," says Blackie of Siemens's decision. "That foreign direct investment sparked the transformation of the north-east from a basket case full of declining industries – full of black and white photos and all that – to the sunlit uplands of new technology and electronics. It fitted the bill. Thatcher's government was desperate to get that."
Siemens almost picked Merseyside for its microchip factory, but concerns over labour relations in the heavily unionised Liverpool region led its executives to choose Tyneside. Less than two years later, amid a global collapse in microchip prices, the plant closed, though Siemens continued production in Germany, France, the US and Taiwan.
The mothballed plant began production again in 2000 under US company Atmel, which quit seven years later, choosing to expand in Texas instead. Equipment for producing sought-after eight-inch wafers was sold to TSMC and shipped to Shanghai for use in its mainland China business, and the Wallsend factory was bulldozed.
Before the deal with Siemens, Japanese technology firm Fujitsu had agreed to open an advanced microchip factory at Newton Aycliffe in County Durham, and Korean electronics maker Samsung was persuaded to open a microwave oven and computer monitor plant on Teesside.
All have since left again, proving that a successful industrial strategy involves making sure companies stick around long after the grand ribbon-cutting ceremony.
Called "Mr North East" by the local papers, as the man responsible for spending more than half a billion pounds in the region before he retired from the civil service in 2011, Blackie says the presence of those facilities has had some lasting benefits.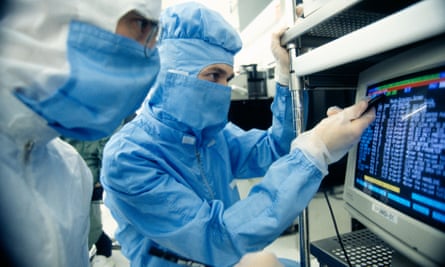 While Siemens and Fujitsu did not stay long, the north-east has, he says, a legacy in the microchip business which could help it, with the right support, to develop in future. "There's quite a lot of evidence that people who were recruited for Siemens and Fujitsu stayed on and managed to find other work. A bit like how engineering firms who supplied the shipyards in previous decades have adapted to the offshore wind sector."
In the launch of its semiconductor strategy, the government highlighted the north-east's potential as an existing cluster for hi-tech manufacturing, alongside ones in south Wales, Bristol, Scotland, Northern Ireland and Cambridge.
While Fujitsu lasted about seven years at Newton Aycliffe before quitting the site in 1998, the plant is still open – albeit with a smaller workforce. It has had a string of owners, including, for a brief period, a firm backed by former Chelsea FC owner Roman Abramovich.
Pragmatic employs several former Fujitsu workers at its fab on a science park developed by Durham council in nearby Sedgefield. "We have that historical base, so that provides a reasonably strong basis for starting to build that capability again," White says.
"But because there is so much interest around the world in onshoring, many governments are providing significant incentives. The challenge for the UK is that it's only going to happen here if there are incentive structures to level the playing field."
[ad_2]
Source link