[ad_1]
As Texan cricket tycoons go, Anurag Jain certainly cuts a more credible figure than Allen Stanford, the disgraced financier and Twenty20 promoter who notoriously landed a helicopter at Lord's in 2008 and flaunted a crate that he claimed held $20m in cash.
Stanford, the flash, brash neocolonial chancer born near Waco, who sought to shape a cricketing empire from his base in Antigua, is serving a 110-year prison sentence in a Florida prison after his 2012 conviction in a Houston court for running a multibillion-dollar Ponzi scheme.
Jain, meanwhile, grew up watching and playing cricket in India before moving to Dallas, starting a healthcare technology company and founding a venture capital firm with Ross Perot Jr, former owner of the NBA's Dallas Mavericks and son of the late businessman who ran for president in the 1990s. They are investors in the Texas Super Kings, one of six Major League Cricket (MLC) teams in the inaugural tournament, which ends on Sunday with its championship match in Grand Prairie, midway between Dallas and Fort Worth.
"This has been the best start-up I've ever done," Jain beamed from outside a buzzy stadium suite where yellow-clad Kings fans mingled on Thursday ahead of a nine-wicket defeat to the Seattle Orcas, for whom the South African international Quinton de Kock bashed an undefeated 88.
While Stanford came across as a Barnum with bails, the numerous wealthy and influential MLC investors, many of them of South Asian heritage and with technology backgrounds, are more modest and methodical. With an initial outlay of $120m and much infrastructure to build, this is not a get-rich-quick scheme.
"We have a very clear path to where we think the league and the teams are going to be break-even and then profitable from then on … in a very realistic timeframe. We are not talking 10 years or anything like that. We would like to see that happen in the three-to-five-year horizon," said Vijay Srinivasan, co-founder of MLC and of Willow TV, an American cricket pay-TV channel.
"We are nowhere close to finishing our venues so there's a lot of capital lined up to go into that," he added. "This season was a short season, we do want to play a more robust home and away format so we'll expand the league, more games, more venues."
Texas has a large South Asian population, with about half of the state's 450,000 Indian Americans living in the Dallas area. "There is a good springboard of Indian, South Asian and Commonwealth diaspora that are here," Jain said. "Eventually we'll explore other markets just like soccer did in the US 30 years ago."
Crowds have been good, with several sell-outs, but MLC only used two grounds this year: the bucolic but modest Church Street Park in Morrisville, North Carolina, and the 7,200-capacity Grand Prairie Stadium. Finished in a rush just in time for the first game on 13 July, the converted minor league baseball stadium still bears faint traces of its past as the home of the now-defunct Texas AirHogs, from a board on a wall at the main entrance to the baseball motifs in the adjacent playground.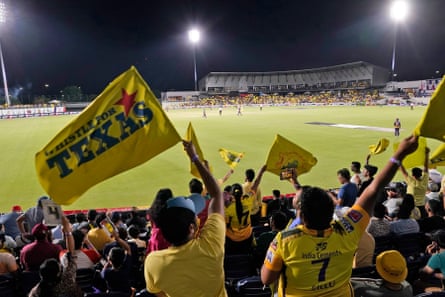 The Foodistaan Sports Bar & Grill looms beyond the boundary by one of the sight screens. Concessions outlets sold biryani and burgers, samosas and garlic fries. Also fried were the players, officials and few hundred fans who sizzled in the 102F (39C) heat during Thursday's eliminator between the Washington Freedom and MI New York, which started at 3.30pm. It is absurd to hold any outdoor sporting event in Texas on a mid-afternoon in July, let alone with the region, like much of the nation, baking under a high heat warning.
Still, falling in the southern hemisphere winter, the relatively quiet month allowed organizers to attract high-level talent such as De Kock, his countryman Faf du Plessis, and the Australians, Marcus Stoinis and Aaron Finch, as well as the West Indians, Kieron Pollard, Andre Russell and Dwayne Bravo, to take the field alongside unknown domestic players.
Sanjay Govil, an IT entrepreneur who is the Freedom owner, said overseas players are enticed by the opportunity to spend a few weeks in the US – and by salaries that are on a par with high-grade T20 leagues around the world. England's Jason Roy reportedly agreed a $400,000 two-year MLC deal – generous by any standards, and especially so since his contribution to the last-place Los Angeles Knight Riders this month amounted to three innings in which he scored 45, 7 and 2.
MLC prepared for the tournament with a combine at a cricket complex near Houston built by an immigrant from Pakistan who made his fortune operating American fast-food franchises, and a player draft at Space Center Houston a few cover drives from mission control at Nasa's Johnson Space Center.
"I'm pleasantly surprised with all the quality of players that we've had, so many international stars," said Damodhar Bhat, an India-born 42-year-old IT professional and cricket lover who travelled from Seattle with his son to watch Thursday's doubleheader. "This looks very promising. I really wish it sticks around and hope that it does."
For now, Grand Prairie is a temple where MLC preaches to the converted, but the 2024 World Cup, which the US is co-hosting with the West Indies, is an opportunity to promote the gospel. So too, above all, is the 2028 Los Angeles Olympics, should cricket join the slate of sports.
If summers broiled by climate change are a challenge, another defining aspect of modern life, globalization, is an opportunity. "I do this 'poll', whenever I'm in an Uber, taxi, car, whatever. I've never heard of anybody who's not heard of cricket. It's a very connected world," said Govil above the hum of an air-conditioning unit, pausing to stand for a rendition of the Star-Spangled Banner, hand over heart.
"I think there's going to be a huge evolution in how cricket is going to be played in the future. We had failed attempts with Kerry Packer and West Indies and so on and so forth. But I think the game has evolved a lot more and there's a lot more commercial interest now thanks to the IPL and other leagues like The Hundred and the Big Bash."
It is only 20 years since the T20 format debuted professionally in England and fifteen since the Indian Premier League was born. "The game has changed. The game has become shorter, faster, funner," Jain said. "People like action … Offense, defense, all the time."
It's also created a more democratic environment; or at least a more capitalistic one. "You don't have to be the best Test-playing country to be seen as a player on the global landscape," Srinivasan said. "If you can put together a high-quality T20 tournament with the best players in the world and the highest standards then there's a place for you."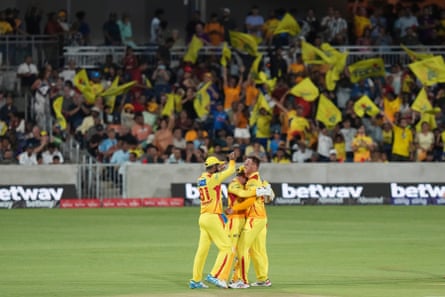 Willow TV has broadcast games in the US along with the CBS Sports Network, with several other countries also airing live contests. High-end production values have included slick graphics and a range of camera angles. The former India great Sunil Gavaskar, one of the television commentators, examined the pitch on Thursday wearing a cowboy hat.
Texas now has a cricket team named after the Chennai Super Kings, an IPL team based nearly 10,000 miles away. It might be a dubious branding decision in a place that had a distinctly strained relationship with its last monarch. But perhaps it's not so odd in the broader context.
Culture clash is not the right phrase for what's happening in Major League Cricket. This is not a collision. It's a combination. A blending, the logical outcome of modern media and mass migration, horizons widening as technology erodes boundaries.
A post-pandemic backlash against globalism is impacting how the world creates and consumes all kinds of stuff. But not in sports, where the international TV and digital content supply chains remain sturdy, market forces rule, workers are peripatetic and power and profits are increasingly interconnected across frontiers. After all, earlier in the week, North American-owned Wrexham played North American-owned Manchester United in San Diego and Saudi Arabia (its world golf conquest ongoing) signed Liverpool's captain.
Four MLC teams are tied to IPL entities while the other two partnered with Australian regional federations. Sports gambling is illegal in Texas, among other states, but, underlining the importance of overseas viewers, an international online betting company is a major sponsor of the league.
"Whatever we do, whoever the owners are, ultimately this is an American league, it's an American product," Jain insisted, pointing out that matches were timed to appeal to US prime-time viewers.
"Our line-ups, all of them have a strong US domestic component, so this is a platform for growing American cricket in all respects. This is not meant to be anything other than that," Srinivasan said. "We're adding more venues. Increasing the standard of the domestic US pool. Some US players have had significant match-changing performances in this tournament which is a good thing, I think. What we'll see is that's going to lead to a more competitive US team like the IPL did for the domestic Indian player pool."
Overall, he argued, MLC is "truly what the US is – it's an amalgamation of a lot of things. I think that's the identity of our league."
[ad_2]
Source link