[ad_1]
Overall, is this ANAO stamp of approval good? Well sure, particularly for secretary Michael Pezzullo, who's been atop the super department since its inception.
Does this mean it answers questions from journalists when asked? Of course it doesn't!
At least, we're told, they're polite and meet deadlines with their responses to the questions they wish they'd been asked.
The report gave a shout-out to Home Affairs' most liked social media post from 2022 as well. It was from Australian Border Force about the end of TV show Neighbours and wished all the best to Toadie.
It makes sense, on reflection, that Border Force would think having good neighbours is desirable. We're glad the department found time and resources to post that contribution amidst all the other things it's doing so well.
SUING SUE'S SAD SALAD
At the opening of ex-commando Heston Russell's defamation trial against the ABC in Sydney on Friday, his barrister Sue Chrysanthou, SC, went full ham, accusing the national broadcaster of going "rogue".
One comes to expect a certain rhetorical flourish from Chrysanthou, and it's fair to say she delivered, even with a somewhat croaky voice that prompted Justice Michael Lee to ask if she required a break. (She did not, although she did say it was a product of "too much talking".)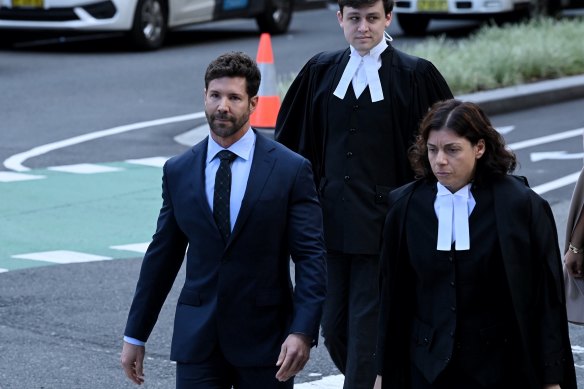 "Shoddy, uncorroborated, reckless reporting is not in anyone's interest," Chrysanthou said in a blistering opening. "And because of those uncontroversial notions, the public interest defence in this case is absolutely doomed."
But there were moments of levity in the proceedings, including Chrysanthou quipping that she would listen to a newly-discovered audio recording of an interview conducted by ABC Investigations journalist Mark Willacy "over lunch while I eat my sad salad".
In happier times, Chrysanthou and Russell shared shards of chocolate from a reindeer-themed smash cake the barrister sent the commando in February as a late Christmas present.
"Breaking the summer shred regime with a belated Christmas present from the Baddest Boss-B* Barrister in the land," Russell posted on Instagram with a happy snap that included Chrysanthou and a comically teeny mallet.
"Be Rude, get Sued", read an edible badge on the cake.
Perhaps the commando-cum-fitness influencer could return the culinary favour and hook up Chrysanthou with some finer Federal Court fuel.
The ABC is set to deliver its own opening on Monday.
RIGHT ON THE MONEY
Beyonce's Renaissance tour might've conspicuously skipped Australian shores, but don't fret, because the event's spiritual antipode, the Conservative Political Action Conference, is hitting The Star in Sydney next month with an all-right line-up.
Naturally, one of the nation's most confident orators Pauline Hanson will kick off festivities before CPAC chair Warren Mundine and Senator Jacinta Nampijinpa Price preach No to the proverbial choir.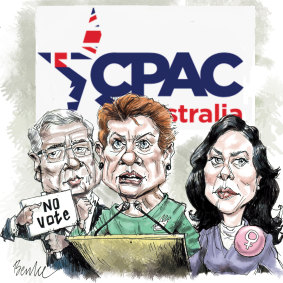 Anti-trans campaigner Sall Grover, expelled Victorian Liberal MP Moira Deeming, Women's Forum Australia's Rachael Wong and former senator Amanda Stoker will convene for the panel HAVE THE LEFT FALLEN OUT OF LOVE WITH WOMEN? (CPAC certainly hasn't, with a whopping 36 per cent women on the line-up. Who needs quotas?)
Alan Jones and Price have featured in the event's online advertising, along with the slightly less infamous Nick Cater, executive director of the Menzies Research Institute and current host of Battleground on Jones' "outrage network" ADH TV, which is also a sponsor of CPAC.
Cater, an enthusiastic proponent of nuclear energy, is fresh off the back of a ground-trembling investigation where he uncovered a "graveyard" of dozens of discarded wind turbines in Queensland.
"Renewable energy isn't actually that renewable," the gonzo reporter told Sky News host Andrew Bolt. "They'll just sit there leeching various substances into the earth."
This column wonders if the same concern extends to decaying uranium.
Victorian Labor's former deputy campaign director, Kos Samaras, raised eyebrows in some Labor circles when he originally appeared on CPAC's billing before vanishing from the line-up. He tells CBD he was set to appear as a pollster to comment on the Voice referendum's state of play, but family commitments trumped the booking.
FOUR CORNERS' WHITE FLAG
Corners of Twitter-slash-X began grumbling on Sunday when it appeared a much-promoted Four Corners episode about the big four consulting firms had been inexplicably swapped out with an investigation into fast fashion monolith Shein.
It was billed as "Four Corners takes on the big consultants", and the investigation called Shadow State promised to zero in on KPMG, which has escaped the lion's share of bad press as PwC buckles under the brunt of the scrutiny. But what was afoot? A legal challenge?
Had the investigation been canned altogether?No, but Sam Kerr was reportedly back to play in the World Cup in Australia's do-or-die duel with Canada.
That match-up is anyone's game, but when it comes to ratings competition between Four Corners and the Matildas, the ABC figured the girls in yellow were unbeatable. The investigation was moved to August 7, so it doesn't clash with the game, Four Corners reporter Angus Grigg confirmed. Corporate accountability can always wait another week.
The Morning Edition newsletter is our guide to the day's most important and interesting stories, analysis and insights. Sign up here.
[ad_2]
Source link