[ad_1]
Italian Prime Minister Giorgia Meloni has hailed her visit to Washington after what she said was "false propaganda" around her right-wing government.
Ms Meloni received a warm welcome during a meeting at the White House with US President Joe Biden, who praised her steady backing of Ukraine.
Ms Meloni told Italy's Sky Tg24: "False propaganda, so to speak, preceded me, which described the idea of a centre-right government as a disaster in terms of maintaining international relations, in terms of economic stability for Italy, in terms of institutional and national stability.
"But in reality, once it was no longer possible to mystify – because facts count more than the narrative built around those facts – it emerged that a centre-right government led by Giorgia Meloni as prime minister is a serious government."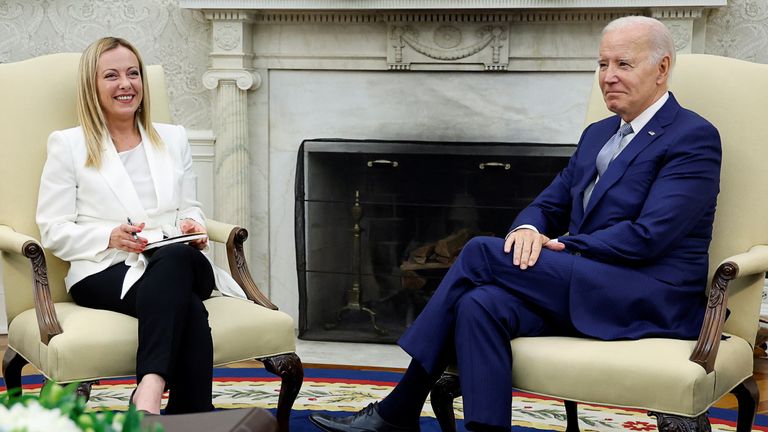 Ms Meloni is at the helm of Italy's first far-right-led government since the end of the Second World War. She is also the first woman to hold the position of prime minister in the country.
Read more:
Who is Giorgia Meloni? A profile of Italy's prime minister
Her ideology had caused some concern in Washington, but the two leaders vowed to deepen economic ties and strengthen cooperation on challenges posed by China.
Mr Biden said he and Ms Meloni had "become friends".
"Italy and the United States are also standing strong with Ukraine, and I compliment you on your very strong support in defending against Russian atrocities, and that's what they are," the US president told her at the start of their Oval Office meeting.
With China high on the agenda, Ms Meloni also met with Henry Kissinger, the former US diplomat who played a key role in normalising ties between Washington and Beijing in the 1970s.
The two also discussed artificial intelligence, with the Italian PM saying she is "fearful" of its potential implications.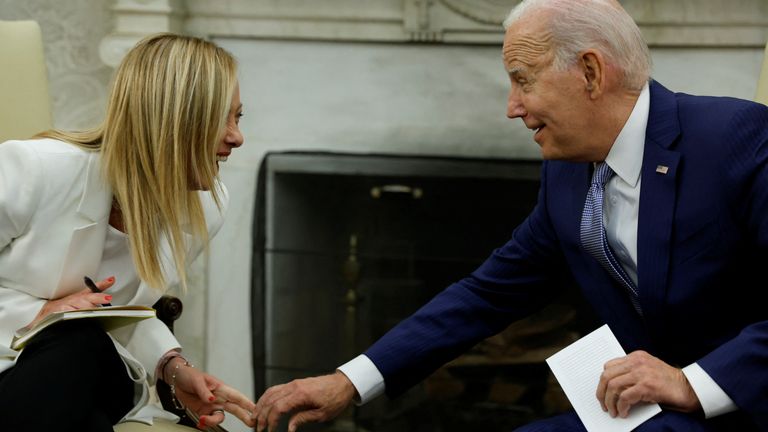 "If we make the same mistake we did with globalisation, letting it go and then finding ourselves catching up, the impact could be irreparable," she said.
"So far, for better or worse, progress has enhanced our skills and been at the service of humans. The centrality of the human being has never been in question.
"When machines start thinking, you see that progress risks becoming a substitute for humans. And this should frighten us."
The Italian prime minister said she envisages "an intervention by states and international organisations – and I hope we can agree on the fact that human beings should remain at the centre of our world."
Italy takes over the presidency of the Group of Seven (G7) nations next year.
[ad_2]
Source link