[ad_1]
A better choice than purgatory
We can all agree that Daniel Andrews has got something right: the 2026 Commonwealth Games can go to hell. Queenslanders are hoping their premier also sees the light, that the 2032 Olympic Games go to hell. Where's hell? Sydney, I suggest. The city could host low-key games using existing facilities.
Ross Drynan, Lindfield, NSW
THE FORUM
Trying their luck
The hide of Victorian pubs and clubs, the massive beneficiaries of poker machine revenue over decades, now seeking compensation for any downturn in profits due to poker machine restrictions ("Venues in damages push over pokie rules", 18/7).
Peter Randles, Pascoe Vale South
On balance
It's entirely reasonable for taxpayers to compensate gambling businesses for the pokies reforms – after they compensate us for the untold human misery, money-laundering and corruption of the political process they've wrought. Tote it up – I'm happy to pay the balance.
Gregory Hill, Brunswick
Plenty of profit
"A not for profit pokies venue" sounds like an oxymoron to me. Does this mean those gigantic bowling clubs with all their luxurious amenities? It seems a bit rich that gaming venue operators are demanding compensation for proposed changes. This is a business model built on human misery and vulnerability, and they've been warned for long enough.
Fiona White, Alfredton
User pays
Not being a gambler, I have never understood the pull to dump hard-earned money into a machine that is set to keep the majority of it and randomly pay a little back sometimes. But the thought that always enters my mind when passing a casino or pokies venue is this: They don't build these places to give money away.
Joyce Butcher, Williamstown
A valuable lesson
When I was 23, I unknowingly cured my pokies addiction. I was a young, poorly paid, first-year-out teacher, working at a school very close to the Murray River. I inevitably ran out of money before pay day, so I naively drove across the border (no pokies in Victoria, then) and tried to win enough to see me through to payday. I lost, of course, and spent the next few days bumming meals off friends and colleagues.
I realised very quickly it was better to keep my $10 than simply give it to the bowls club (and back to the government) in a matter of seconds.
Frank Flynn, Cape Paterson
Not property moguls
How refreshing to see your article ("Typical landlord a long way from a property baron", 17/7), dispelling the myths of many that landlords are property moguls. This might even make room for addressing the real issues instead of hammering those trying to build their nest eggs.
Ian Anderson, Surrey Hills
Scraping by
The idea that people on very modest or low incomes are also property investors is surely a myth. For any statistical analysis, could we use the incomes of people prior to any negative gearing and other significant concessions please?
I really can't see the big banks lining up to lend money to people who are scraping by.
Gill Riley, Doncaster East
Doing the calculations
The findings in your article that property investors are on modest incomes is misleading. The taxable income quoted in your article is after the magic of negative gearing has been used to reduce taxable income.
This is precisely the reason that many high earners are attracted to property investments. They can shield income in their high-earning years then sell in retirement to manage the capital gains tax. Your article should quote gross incomes before deductions.
It is also remiss by not mentioning the billions in tax forgone by the government due to negative gearing.
Barry Lizmore, Ocean Grove
All kinds of investors
Re: "Clarifying the details" (Letters, 18/7), I wouldn't think the term "mum and dad investors" is widely used in the real estate industry. It's mainly used in the sharemarket to distinguish small retail shareholders, regardless of marital status or fertility, from large institutional shareholders.
There are very few corporate owners of rental residential properties, so the term is redundant.
Wayne Robinson, Kingsley
Power to speak
I can't believe the arguments of the official No case that has just been published ("Yes and No cases draw battle lines on Voice", 18/7). It starts by complaining it's a big change to the Constitution. Then finishes by saying if it's in the Constitution we can't change it. Duh!
Next it says "If you don't know, vote no". This is illogical. If you vote no you're saying you do know. You know it's bad. If you don't know, the logical response is to abstain.
It raises fears about the power of the Voice – if they'd read the proposed amendment they would know that the only body it gives power to is parliament. A Voice can say things, but it can't do things.
Finally, it pointedly ignores the Indigenous Australians' prior thousands of years of de facto sovereignty and wants to treat them as just another group of immigrants and settlers like the rest of us. Giving them due justice does not diminish our rights, but does enhance our moral capital.
The No case seems more intent on generating fear and uncertainty than making logical argument.
Ian Robinson, Cowes
Leafiness being lost
Be quick, Larissa Ham ("Wantirna was once a white-bread triangle", 18/7), to catch the "leafy" Wantirna you remember. McMansions are on the march and a query to council revealed up to 80 per cent of a block can be covered in hard space.
Several homes in that triangle you describe have concreted over their front yards, and the behemoths that house three people have a hanky-size pocket of green in the front with a token Iceberg rose slapped in the middle. A native plant surrounded by rocks appears to be the other desirable solution.
Get in for a quick wander down memory lane before this suburb becomes just another concrete jungle.
Wendy Hinson, Wantirna
Rising costs are real
Recently I came across a supermarket shopping bill from October 2021: having observed significant increases in everyday groceries, I decided to check the prices at the same large supermarket. The result, and increase in the trolley cost: 25.13 per cent.
I therefore have quantified what grocery shoppers are complaining about.
David Greenall, Black Rock
Solution in front of us
"Millions on the brink as rising costs hit home" and Joseph Stiglitz's, "Labor must act on multinationals" (The Age, 18/7) demonstrate the great disconnect and gross inequality within the globalised economic system. Multinationals have the ability and power to exploit any taxation system. Stiglitz suggests Labor must have the courage to rein in those multinational companies that impact negatively on Australia, by not paying their share of taxation. If they did there would be more in the coffers to help those who struggle in times such as these. It should also be remembered that these companies are often great exploiters of resources, and create cultures of dispossession and exclusion.
Judith Morrison, Nunawading
Growing prejudice
I am hardly surprised to hear examples of antisemitism in Melbourne schools. In many ways the political and ideological climate is a perfect Petri dish for such a virus to grow and fester.
On one hand Jews, especially Ashkenazi, are blamed for all the world's purported ills: COVID, Trump, Ukraine, hyper-capitalism, "woke-ism" – you name it. On the other hand, the arrant stupidity of social media and American-style activist sloganeering, have ensured that Ashkenazi Jews are subsumed into "whiteness" – the very thing that caused 6 million of them, including 15 members of my own family, to be sent to the gas chambers a mere 80 years ago.
Such a polarity ensures that no matter which way a European Jew turns, he is labelled as "other" in a world that has rapidly taken on essentialist, neo-Darwinian taxonomies in an effort to combat injustice. As such I am not at all surprised to read that "the response from both the schools and Education Department did not go far enough to stamp out the behaviour". As comedian and author David Baddiel correctly observed, "Jews don't count".
Simon Tedeschi, Newtown, NSW
A war against residents
The state government is looking at a "fast-tracked" process for the 15-storey Preston tram depot development, to avoid normal council processes, with their community consultations and their 12-storey limit ("'Hypocrisy': Stoush over Preston housing proposal", 18/7). Naturally, locals worry about the height and bulk of the proposed development, insufficient car parking, traffic congestion and overshadowing. So, while Northcote residents want more housing we, and our council, are concerned that local voices will not be heard in this matter.
It is inappropriate for our Northcote MP Kat Theophanous to attack our Darebin Council for wanting to do its job. It is also incorrect to suggest the Greens dominate the council; there are three Greens, three Labor and three independent councillors. Theophanous should remember that her job is to represent Northcote residents.
Lesley Walker, Northcote
Odd expense
I like many others pay for the pleasure of a meal out using a credit card. In a busy eatery I read, the now too frequent, notice that my use of the card adds 1 to 2 per cent to the bill. If I used folding money, there is no comment. The habit makes me cross. Paying cash means the establishment must provide change, safely secure the notes, travel to the bank and return. A card gives an instantaneous deposit to an account.
Bruce Love, East Melbourne
AND ANOTHER THING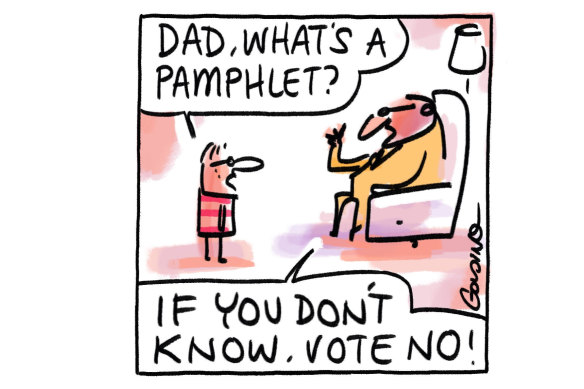 Referendum
Will the Yes and No campaign pamphlets come with the warning that there is no requirement for the content to be truthful?
Joan Segrave, Healesville
According to the referendum pamphlet: This year, the government allocated $4.3 billion to the National Indigenous Australians Agency, which has 1400 staff. Who knew?
Peter Barry, Marysville
Re: Letters (The Age, 18/7), if the referendum is successful, absolutely no time or money will have been wasted.
Jo Bond, South Melbourne
Commonwealth Games
It is an all-time first that I agree with Daniel Andrews. But it must have taken some nerve to cancel this expensive, meaningless event.
Lesley Black, Frankston
A great leader knows when to make tough decisions. Housing, hospitals and infrastructure are more in need than games.
Wilma Buccella, Hawthorn
The British Commonwealth is an anachronism as are the Games. I won't miss them.
Reg Murray, Glen Iris
Cancelling the Comm Games will save us bringing a King and Queen here for the opening. It might even be a big step for the republic.
Lindsay Donahoo, Wattle Glen
In gymnastics Dan Andrews is awarded a perfect score of 10 for his back flip.
Mark Cherny, Caulfield
I was looking forward to the Games but am prouder of our government saying no to spending an outrageous amount of money on it.
James Lane, Hampton East
Will the decision to cancel the Commonwealth Games be as expensive as the decision to cancel the East West contract?
Stephen Canterbury, Camberwell
We could turn to the words of Leonard Cohen – "First we take Manhattan, then we take Berlin". In this case Manhattan being Victoria and Berlin the Gold Coast (Olympic Games).
Rob Park, Surrey Hills
Patrick Elligett sends an exclusive newsletter to subscribers each week. Sign up to receive his Note from the Editor.
[ad_2]
Source link