[ad_1]
It's Mumbai. It's Manhattan. It's Mumbattan.
That magnificent amalgamation of New York City and Mumbai is the friendly neighbourhood of Pavitr Prabhakar, the Indian Spider-Man who swung onto the big screen with Spider-Man: Across the Spider-Verse last month. The smash-hit animation film — a follow-up to 2018's Academy Award-winning Into the Spider-Verse — was released theatrically in India in 10 languages, including English, Hindi, Tamil, Telugu, Malayalam, Gujarati, Marathi and Bengali.
Prabhakar has since become a conversation starter. There's the iconography surrounding his costume. The classic red suit, with blue dhoti to boot, complete with various markings. The golden bangles-damru-lattu hybrid that doubles as web shooters. Then there's the diaspora humour — "Don't eat, pray, love me, bro," our web-slinger quips after another character brings up self-discovery. No 'Kapow!' or 'Krak!' speech bubbles when he lands a hit. Only 'Tadaak', that too in Devanagari. Or even his distinct movement, adapted from an Indian martial art — kalaripayattu.
However, calling the character an instant hit would be doing it an injustice. It's been a 20-year journey to get the world talking about a desi Spider-Man.
***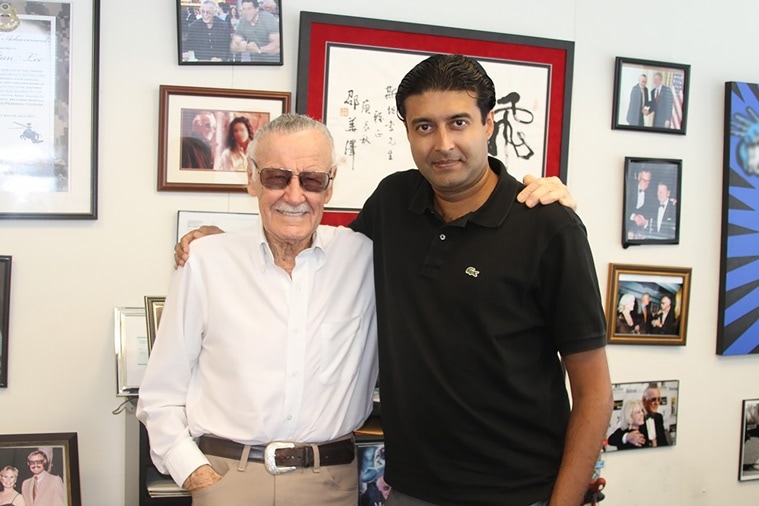 Sharad Devarajan with Stan Lee. (Photo: Sharad Devarajan)
In 2003 — 41 years after comic book legends Stan Lee, Steve Ditko, and Jack Kirby brought Spider-Man to life — Sharad Deverajan, Suresh Seetharaman, and Jeevan J Kang pitched an Indian version to Marvel when they were working together in Bengaluru. Devarajan and Seetharaman's company Gotham Comics — named, of course, after the fictional city featuring a certain caped crusader — had already been publishing Marvel Comics in regional languages in India. "Together, we came up with the story idea, and Jeevan worked on original concept illustrations that we shared with Marvel as part of a pitch to create one of the world's first reinventions of Spider-Man for a new culture," says Devarajan, "An Indian Spider-Man by Indian creators."
The powers that be at Marvel saw the value and worked closely with the team on the editorial and creative process, but "allowed Jeevan, Suresh, and I a lot of creative freedom to make sure the story was a unique take from our unique perspective. I have always believed that the superhero relates to a psyche already established in India through centuries of mythological stories, depicting our gods and heroes with supernatural abilities," says Devarajan, 48, who teaches Media Marketing and Entrepreneurship as an adjunct associate professor at Columbia Business School. "It was a way to take a global hero and make him a local one — almost a 'reverse globalisation' approach to exporting a character franchise."
When Spider-Man: India #1 arrived in 2004, the Manhattan skyline had given way to the Mumbai skyscrapers. The Gateway of India replaced the Empire State Building as the superhero's favourite hangout spot.
The characters, too, received a makeover. Aunt May and Uncle Ben became Aunt Maya and Uncle Bhim. Longtime love-interest Mary Jane became Meera Jain; even longer-time nemesis Norman Osborn transformed into Nalin Oberoi. The changes, however, went beyond the setting and the names.
Strip his mask and the arachnid abilities, and Parker has classically been depicted as a teenager or young adult, dealing with school, relationships, and financial difficulties, resonating with the experiences of many young readers or viewers.
After all, the comic-book character was born in 1962 due to the surge in teenage readership. Lee famously rejected Kirby's original version for being "too heroic." The young readers had to relate to Parker's real-life struggles and insecurities: from trying to scrape together enough money for a date to being picked upon for being a bookworm.
However, while his nerdiness made Parker a target for bullies at the Midtown High School in Queens, NYC, being academically exceptional would have been admirable in India.
"We chose to play on the larger social allegory of having Pavitr be a village boy who comes to Mumbai on a scholarship but feels out of touch with the high-paced lifestyle of its elite. He represents the more traditional family values that most of India still admires. This reflected the direction we saw in 2004 when the big cities of India seemed to be moving at light speed while many of the people in rural India felt separated," says Devarajan.
The radioactive spider was gone, too. Instead, Prabhakar gained his abilities from a mysterious yogi.
As a first-generation Indian American growing up in the early '80s, where the Devarajans would often be the only Indian family in the town, Sharad felt a kinship with Lee's work. "Often, his heroes were the underdogs, the outcasts, and the people who didn't fit in — and yet, they were the ones that often helped make a difference. As I struggled with my dual identity, Stan's heroes taught me the value of being different," says Devarajan. "I grew up in the States with the great stories of Marvel and DC superheroes but also with the stories of our gods and heroes of India through Amar Chitra Katha. My worldview was shaped by these stories and comics from the US and India. That synthesis was part of what I brought to a character like Spider-Man India when I created it with Jeevan and Suresh."
Though Lee wasn't involved with Spider-Man India, he gave a seal of approval to Devarajan. Shortly after the book's release, an "incredibly nervous" Devarajan handed a copy to Lee. When he finally looked up from the book, Lee cracked that famous smile, putting the butterflies to rest. "He signed one of the copies to show me his support for the project — a treasure I keep close to me on my desk," says Devarajan. "Stan was a dear friend and mentor for most of my professional life. In 2009, Stan and I began work on Chakra The Invincible, which we eventually launched in 2012," says Devarajan, who has created over 200 animated TV/digital episodes and published, edited, or created over 300 comics and graphic novels. His company Graphic India produces multi-platform IP for live-action film and television, animation, podcasts, gaming, and publishing.
It took 20 years for Pavitr Prabhakar to move from the comic to the screen, but Devarajan is hopeful it won't take another 20 before "we see the live-action version. Unfortunately, neither I nor the other creators were involved in the new animated film, so I don't know what to expect. Still, wherever his latest adventure takes him, you can bet I'll be first in line to buy my ticket!" says Devarajan.
***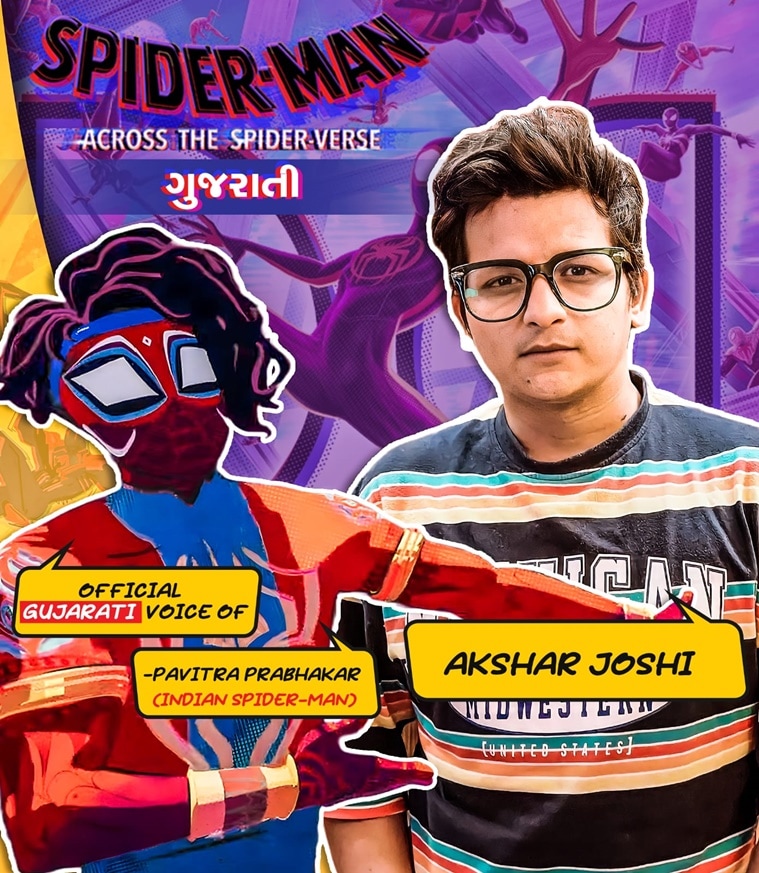 Akshar Joshi, who voiced Pavitr Prabhakar, in the Gujarati version.
Akshar Joshi, 29, a voice actor in Mumbai, was in the running for both the lead character Miles Morales and Pavitr Prabhakar for the Gujarati release of Across the Spider-Verse. "When I got the role of Prabhakar, I didn't know about the character. I thought hoga koi side character (must be some side character). I didn't know he was the Spider-Man of India, making a debut on such a large scale. That's when it hit me — I'm voicing our Spider-Man."
Joshi has been performing ever since he can remember. His training in arts and music began when he was five. After becoming a professional in 2015, he has voiced characters in the Angry Birds movie, Netflix's Wednesday show, and some K-drama series. Across the Spider-Verse, however, was a level above.
"Pavitr Prabhakar is completely different from me. He's carefree, impatient, a fast talker." Joshi recalls how Prabhakar admonishes Morales for calling tea "chai tea" and cackles. "Chai means 'tea', bro! You are saying 'tea tea'! Would I ask you for a "coffee coffee" with room for 'cream cream'?" he recalls.
Since the movie's release, Joshi has been tagged in numerous photos of posters, billboards, and graffiti featuring Pavitr Prabhakar. "I'm receiving so many comments. 'Your performance in Gujarati was even better than the Hindi one. Why didn't you do it for Hindi too?' I tell them they needed an idol, a celebrity for the Hindi release," he says.
For the Hindi and Punjabi releases, the makers batted on Indian cricket star Shubman Gill. Joshi says it's understandable, if a tad frustrating. "If you hand me a bat tomorrow and ask me to face fast bowlers, I'll not be able to bat like Shubman Gill," Joshi laughs. "He did a good job, no doubt. But when you have industries of artistes, voice actors, theatre artistes, film actors, and if you give a role directly to a cricketer, thoda khatakta hai. But it's Sony's call, Marvel's call. They'd want a big name to grab the audience's attention."
Gill, Joshi, and the rest of the millennial brigade that grew up on Sam Raimi's Spider-Man series continue to call "Tobey Maguire the OG Spider-Man." Joshi hopes the desi Spider-Man plays a similar role for a new generation of fans. "Hindi me bolu toh Prabhakar prabhavit kar gaya," says Joshi. "Miles Morales is the main character of the story. But Pavitr Prabhakar is on the poster, with the title Spider-Man: Across the Spider-Verse under it. I've cried tears of joy. If you go to the theatres to watch your performance and the person next to you starts screaming and whistling … goosebumps stuff," he says, "They wouldn't know me by my face. But they appreciate the work I did."
That's something a Spider-Man would say.
***
According to Variety magazine, the Mumbattan sequence in Across the Spider-Verse was far along in the production process when directors Joaquim Dos Santos, Kemp Powers, and Justin K. Thompson received an email. Some Indian animation team members based at Sony Pictures Imageworks in Vancouver had written in, saying Pavitr Prabhakar "doesn't feel authentic," Powers recalled. "He doesn't feel aspirational." "We very quickly assembled a writers room of Indian and Indian American writers," Powers told Variety. The think tank included Karan Soni (the Delhi-born American actor who voiced Prabhakar in the original release) and comedian Hasan Minhaj. "We literally re-broke the entire sequence and reimagined the Pav character… Of the new characters that are in the film, I think Pav is one that, collectively, we're the most proud of."
Across the Spider-Verse's 'Pav' thus is wildly different from Devarajan, Seetharaman, and Kang's Pavitr Prabhakar, itself an outrageous offshoot of the classic Peter Parker stories.
The character has now found a perfect home in Spider-verse, a series with a tagline: "Anyone can wear the mask." That central idea, and the full-body suit, is why Spider-Man remains the most relatable superhero, 61 years and counting.
"What I like about the costume is that anybody reading Spider-Man in any part of the world can imagine that they themselves are under the costume," Lee had said about his iconic character. "And that's a good thing."
It's fitting, then, that the Indian Spider-Man is voiced by professional actors as well as a Test opener. And he is catering to the diaspora in Brooklyn and captivating the kids in Bhavnagar.
Gaurav Bhatt is a culture writer and journalist based in Ontario, Canada


[ad_2]
Source link