[ad_1]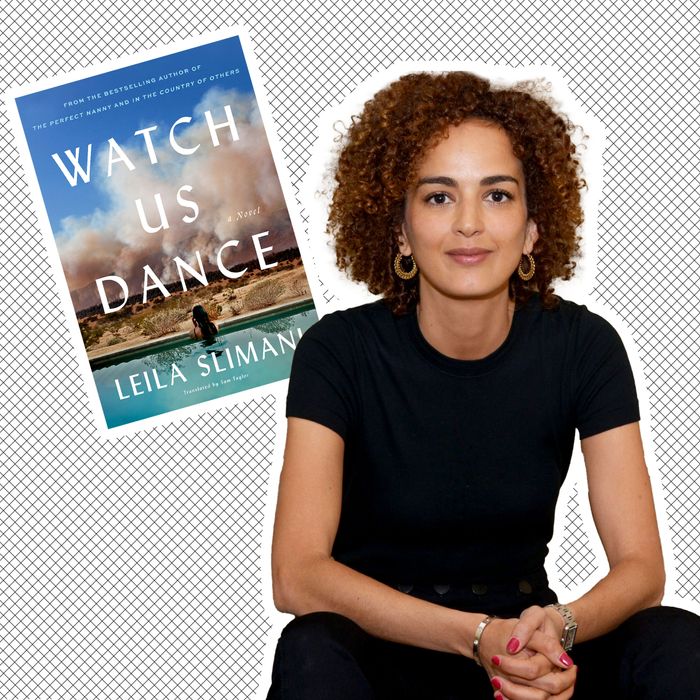 Photo-Illustration: by The Cut; Photo: Catherine Helie
"Morocco is like a man, and you are deeply in love with him, but he will never love you as much as you love him." This is how author Leïla Slimani's mother once described her childhood homeland. That sense of yearning has served as a guiding principle behind the second installment in her multigenerational trilogy, Watch Us Dance (out now). In the new release, readers are reunited with the Belhaj family, whom we first met in In the Country of Others, on the other side of their once near-destitute farm's success. In the sequel, set against a postcolonial Morocco of the 1960s and '70s, anything is possible for Aïcha, the now-grown daughter of Mathilde and Amine — including a budding awareness of her position in the world.
Though Aïcha and Mathilde are based loosely on Slimani's mother and grandmother, respectively, don't mistake the series for autofiction."I'm not trying to tell the true story of my grandmother. I'm trying to write a story about the woman I imagined my grandmother was when I was a child, about the fantasy I had about her in my head," Slimani told me. That sense of fantasy, coupled with the significance of class divisions, is a through-line in her work, and the possibilities it affords are limitless. She was the first Moroccan woman to be awarded France's highest literary award in 2016 for her novel The Perfect Nanny (which fittingly turns racial power structures on their head, with a white French caregiver employed by a young North African mother). It's been adapted into a French film, and will become an HBO series starring Nicole Kidman. She also recently wrapped a stint as chairwoman of the International Booker Prize, an experience she says reminded her of the fact that "literature is always to come, it is always to be defined. It's never done."
Plus, she's a diplomat, having been appointed the emissary of Francophone Affairs by French president Emmanuel Macron in 2017. To present "the open face of Francophonie" to the world is to recognize a series of contradictions — being caught between two nations, and belonging, maybe, to neither. It's something she's trying to untangle, both in that role and through her writing. Morocco is not a monolith, and neither is progress, knowledge, or a woman.
It is no small feat to render a place and time as vividly as Slimani does in Watch Us Dance, her descriptions only adding to the work's air of reverie. The Cut spoke to her about the new book, what it means to capture memory at a distance, the relationship between language and colonialism, good red wine, and more.
What was it like for your family to see fragments of their lives and identities written on a page?
I know my mother was very moved. I know that it was probably not very easy … to know that I was writing about her parents and writing about her, being inspired by them. Mostly because many people don't differentiate between fiction and reality. I think for her, sometimes it's difficult when she meets people at the supermarket and they ask her about the sex life of her parents because they just read In the Country of Others.
Is there a dish you like to cook or eat that reminds you of Morocco?
The smell of cilantro, coriander, and the very hot bread that my mother used to bake. For me, that's the smell of Morocco.
In a previous interview with the Cut, you explained that your distance from Morocco — that is, not living there — in large part served your ability to write so vividly about it. Was that true this time around?
I wrote it during lockdown in France. It was actually impossible to go back to Morocco for weeks, for months. It was very difficult because I needed to go there. Contrary to the first book, for this one I had the possibility to watch a lot of little movies from my parents, to look at a lot of photographs, a lot of visual things that helped me very much to describe the atmosphere and describe the settings and all that. But being away is not really a problem because you use your memory and you try to remember very little details — details that are very significant. I am so attached, so fascinated by this country, my childhood country. I remember everything, because everything was so strong for me, so deep, and at the same time, so heartbreaking.
Can you describe your writing practice?
I wake up at 5:30 and I have my coffee, and then I come to my office. It's very quiet, very calm, and I have a very nice view of a garden. I begin to write at 6:00. I write by hand in a notebook … ideas, things that I saw, things I heard, an anecdote that someone told me, and then I open my computer and begin to write. I don't move from my office until 2:00 p.m. Even if I have nothing to write, even if I have no inspiration, I stay in my office in front of my computer waiting for something to come. I wear my pajamas. I don't take a shower. I drink a lot of coffee and I smoke a lot of cigarettes. I'm always worried about the idea that maybe one day nothing will come and I will never write again. That's the worst nightmare for me.
How about winding down after a day of writing?
I love red wine — red French wine. I have to say I'm very classic. But a good glass of Bourgogne is the best thing in the world. And if you can have some baguette and a good cheese, for me, it's just paradise.
What are your reading habits?
When I'm writing a novel, I have ten books that I'm reading all the time. They are my companions … I really feel that some writers are my friends. I know them by heart and they know me. I always have Marguerite Duras with me. I have Faulkner, I have Chekhov, I have Virginia Woolf or Patricia Highsmith. For me, they are really my friends. I need them next to me.
How do you feel about the idea of "summer reads" or "beach reads"?
I have nothing against them. One day in a very, very long time I will stop writing and I will decide to have something called holidays. Maybe then I will read some, and I will probably enjoy them very, very much with a Caipirinha or a good cocktail.
What, if any, is your relationship to Arabic?
I speak Darija [a Moroccan dialect of Arabic], but I don't speak classical Arabic [Fusha]. It's something that I'm very ashamed of. I learned Arabic from the age of 6 to the age of 18, and I don't speak it and I don't write it. I mean, it's so weird. It's impossible to explain that.
As an African and as a Moroccan and as an Arab, I don't want to be the hostage of colonialism. I don't want to have to defend myself if I speak French and say, "No, I'm not betraying my country or betraying my culture. I didn't sell my soul to the French or to the colonialists." I think we have to stop with that. French is my language as much as it is the language of French people and the language of people from Switzerland or Belgium or whatever. That's why I decided to work with President Macron, to tell all the young people from Morocco, from Senegal, from Haiti: You don't have to justify yourself. You can speak French if you want to speak French. I mean, the more languages you speak, the more human you are. With the rise of Islamism and all the conservatives in Morocco and in the Arab world, it was very important for me to be brave enough to say I'm not ashamed of speaking French, and I'm not ashamed of wanting to be more open, and to speak more languages.
Does the process of translation from French affect your relationship to your text and your Moroccan characters?
In a way, it does. But in a good way, because when I go to Spain or to Italy or to England, and I speak with people about my Moroccan characters, it's not the same as in France. When I speak about my characters in a country where Morocco is a foreign and mysterious country, I feel that I have the opportunity to give them maybe another vision of the country.
Where will the final installment in the series take us?
The first one is the novel of colonization, the second one is postcolonialism, and the third one will be globalization in the '80s and '90s. So you will have chapters in New York, in Paris, in London, in Belgium.
This interview has been edited and condensed for clarity.
[ad_2]
Source link