[ad_1]
And Just Like That (Sky Comedy)| sky.com
The Change (Channel 4) | channel4.com
I'm a Virgo (Amazon Prime Video) | amazon.co.uk
Windrush: Portraits of a Generation (BBC Two) | bbc.co.uk
Faced with the opening double bill of the second series of And Just Like That, Michael Patrick King's sequel to Sex and the City, I wonder: is it going to loosen its designer corsets this time?
Darren Star's SATC rewired the concept of female friendship for a television generation. With Carrie (Sarah Jessica Parker), Samantha (Kim Cattrall), Miranda (Cynthia Nixon) and Charlotte (Kristin Davis), it made hardcore female camaraderie seem beyond fun/aspirational: it made it look indispensable.
Then it came to AJLT and Cattrall wasn't even in it (she has a long-running beef with Parker). It felt sombre and draggy (Carrie's husband, Big, expired after a Peloton session). It tried a little too hard to atone for SATC's narrow Manhattan air-kissing sins with a raft of signposted/underwritten diverse characters. As time went on, AJLT rallied, but who has the patience?
This 11-part series returns on Sky Comedy with Carrie still podcasting and having "grief sex" with her producer. The big AJLT-news is that Samantha will appear, though only for a phone-scene cameo later in the series (which sounds like something Samantha never was: anti-climactic).
Carrie's ex Aidan (John Corbett) is also returning, but it was Samantha who put the sex into the city, and AJLT still feels like it's over-compensating for her absence. It's great that uptight lawyer Miranda ditched dreary, semi-skimmed Steve for non-binary comic Che (Sara Ramirez). But (spoilers ahead), do I truly buy into Miranda, a newly minted bisexual, hoisting herself into a strap-on? In a later episode, Charlotte opines about "jizz", when isn't Charlotte supposed to be super-prim? It's as if Miranda/Charlotte are being sexed-up to fill the Samantha vacuum, but it's all very unconvincing. Carrie, meanwhile, keeps her swanky togs firmly on, at one point engulfed in something obviously madly expensive but which resembles a rotting eiderdown with arms.
Looking ahead, the tone remains erratic, a jack-knifing of light and shade, but this series does feel livelier. Supporting characters (played by Ramirez, Sarita Choudhury, Nicole Ari Parker and Karen Pittman) are much more strongly drawn than the uber-woke paper dolls they were before. Plot themes involve everything from grief to racism to the Met Gala (a cracking episode about ageing features Gloria Steinem). If, for me, AJLT still wants for the fabled SATC-crackle, perhaps television lightning was never likely to strike twice.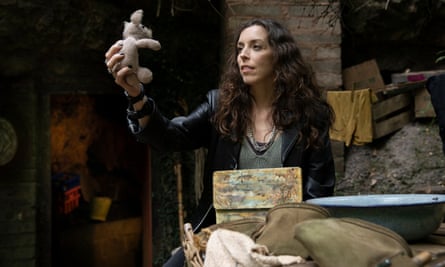 The new six-part comedy, The Change (Channel 4), created by and starring comic Bridget Christie, is about a woman on a menopausal mission to rediscover herself. Wife and mother Lin (Christie) is underwhelmed by a 50th birthday party during which her husband (Omid Djalili) shows off by catching a sausage in his mouth. She cashes in all her "invisible" working hours and takes off on her motorbike on a me-time odyssey in the Forest of Dean, where she rents a dilapidated caravan.
The Change's main drive seems to be to rebrand menopause as an exciting feminine rebirth (And why not? There are more than enough takes on the male midlife crisis). Otherwise, there's an eco-theme (the trees fall under threat), Lin's childhood trauma, and local eccentrics: including Monica Dolan and Susan Lynch as the not-entirely-benign "Eel Sisters", Paul Whitehouse as a local oddball, Jerome Flynn playing a woods-dwelling "Pig Man", and Jim Howick as a radio-blowhard ("Is feminism literally killing men?").
The forest community seems overly mixed and idealised. Still, it's refreshing how Lin refuses to be riddled with maternal angst or stereotyped as a battleaxe. Ditto, The Change's defiantly mystical, folksy tone (there's music from Shirley Collins and a "folklore consultant" in the credits). When it all starts feeling too pastoral (dare I say, hippy?), Liza Tarbuck's brilliantly scathing turn as Lin's sister ("I've had enough of this whingey women's shit") cuts through the whimsy like a jet of hot sauce. Bar a few lulls, The Change is witty and unpredictable, with Lin emerging as a counterculture Shirley Valentine.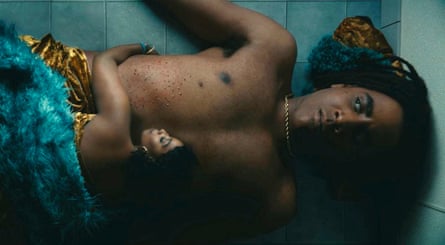 On Amazon Prime Video, I'm a Virgo is the new seven-part mega-absurdist comedy, from Boots Riley (Sorry to Bother You) about Cootie, a black 13ft-tall 19-year-old from Oakland, California. Played by Jharrel Jerome (When They See Us), Cootie is hidden from the world by kooky, over-protective guardians. When he emerges, he must deal with his own coming of age, the real world which dubs him "Twamp Monster", and a malevolent comic book entrepreneur (Walton Goggins) who's transformed into his own creation, the Hero.
Make no mistake, I'm a Virgo is complex: encompassing race, anti-capitalism, trippy streams of consciousness, braggart superhero culture, and what will doubtless be hailed as the most surreal sex scene of 2023. As Riley cranks up the innovation and mania, Jerome maintains Cootie's essential vulnerability, making him a kind of oversized Edward Scissorhands or a quasi-Marvel Gulliver. In the later, more deranged episodes, the wheels start whirring a bit in the uber-conceptual mud, but it's worth hanging on for the final twists.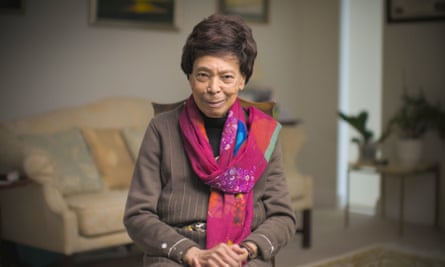 The BBC Two documentary Windrush: Portraits of a Generation marks the 75th anniversary of the arrival of HMT Empire Windrush. It looks at King Charles's project to commission 10 portraits of 10 people from the Windrush era to be shown as part of the Royal Collection.
Almost instantly, it feels overwhelmingly emotional. It's in how the artists (including Honor Titus, Clifton Powell, Sonia Boyce and Deanio X) meet their sitters, all in their 80s and 90s – the deference they pay to them and their life stories.
The sitters include: renowned actor Carmen Munroe; the first Black professor in Scotland, Sir Geoff Palmer; Linda Haye, formerly of the Police Complaints Authority; and celebrated activist "Big" John Richards. There are also former nurses and others who came to the "mother country" to work hard and withstand hostility and prejudice.
Derek Fordjour's portrait ingeniously manipulates paper to echo Professor Palmer's story about a relative wrapping him in newspaper to keep him warm before his voyage. But, heck, all the paintings are good. At the end, the sitters and their families view the portraits at Buckingham Palace for the first time. Small-screen magic.
Star ratings (out of five)
And Just Like That ★★★
The Change ★★★★
I'm a Virgo ★★★★
Windrush: Portraits Of A Generation ★★★★
What Else I'm Watching
Ruby Speaking
(ITVX)
A new workplace comedy about a quirky/mouthy call centre employee, spicily played by Jayde Adams (Leanne in Alma's Not Normal). It also stars Katherine Kelly.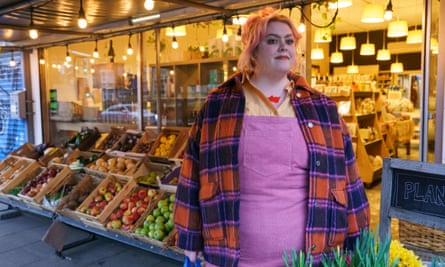 Secret Invasion
(Disney Plus)
A Captain Marvel spinoff series from the Marvel Cinematic Universe in which Nick Fury (Samuel L Jackson) hunts down alien shapeshifters. Also starring Martin Freeman and Olivia Colman, it reaches for a paranoid spy thriller mindset. It doesn't always succeed, but Marvelites should be happy.
The Antidepressant Story
(BBC Two)
An in-depth Panorama documentary examining the side-effects caused by some antidepressants and the lack of corporate accountability. Personal stories about agonising, prolonged withdrawal are particularly troubling.
[ad_2]
Source link