[ad_1]
The forth award ceremony of 'Georgia's Responsible Business Awards – Meliora 2022,' supported by the European Union (EU) and Konrad Adenauer Foundation (KAS), and implemented by the Center for Strategic Research and Development of Georgia (CSRDG), was held on 30 May.
An annual competition aimed at developing corporate responsibility in Georgia and promoting it throughout society, Meliora awards businesses for their best initiatives and projects contributing to the development of corporate social responsibility. As part of this event, the members of diplomatic corps and international experts presented awards to winners in various categories.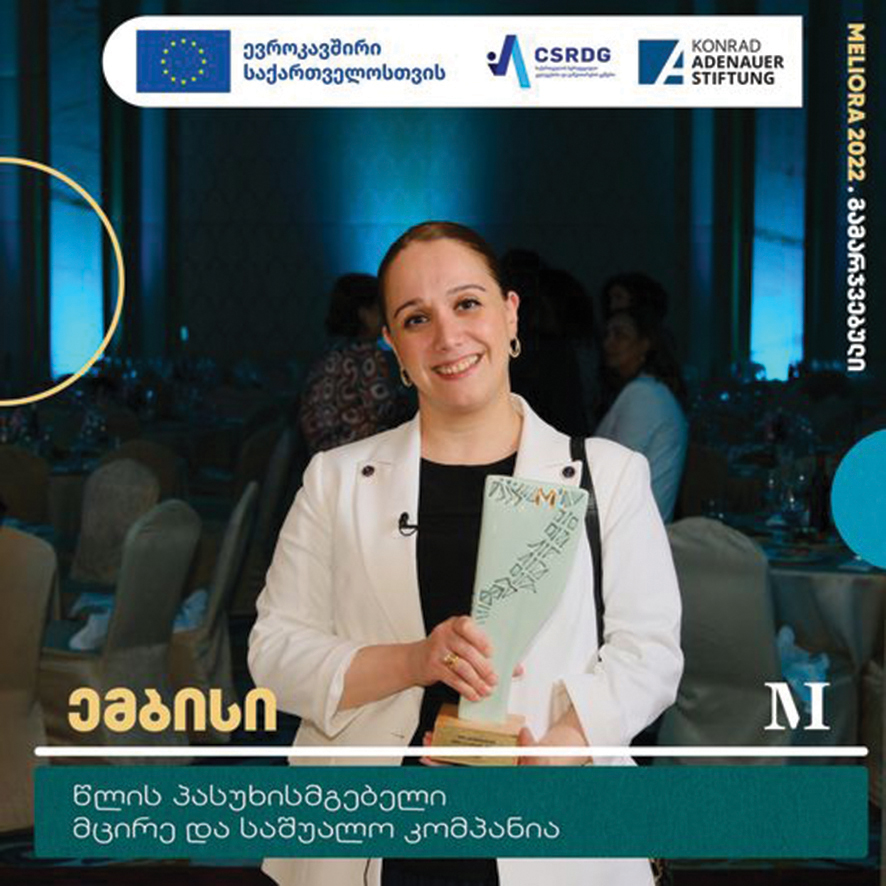 "It is important to make sustainable development and corporate sustainability an integral part of business operations," notes Eka Urushadze, Director of the Center for Strategic Research and Development of Georgia (CSRDG). "Businesses should consider corporate responsibility as a strategy for future development. It is becoming increasingly common for consumers, employees, and society to demand that companies take a more active role in addressing environmental, social, and cultural issues. In this regard, competitions like Meliora help businesses to develop social and environmental projects and bring them to the attention of the public."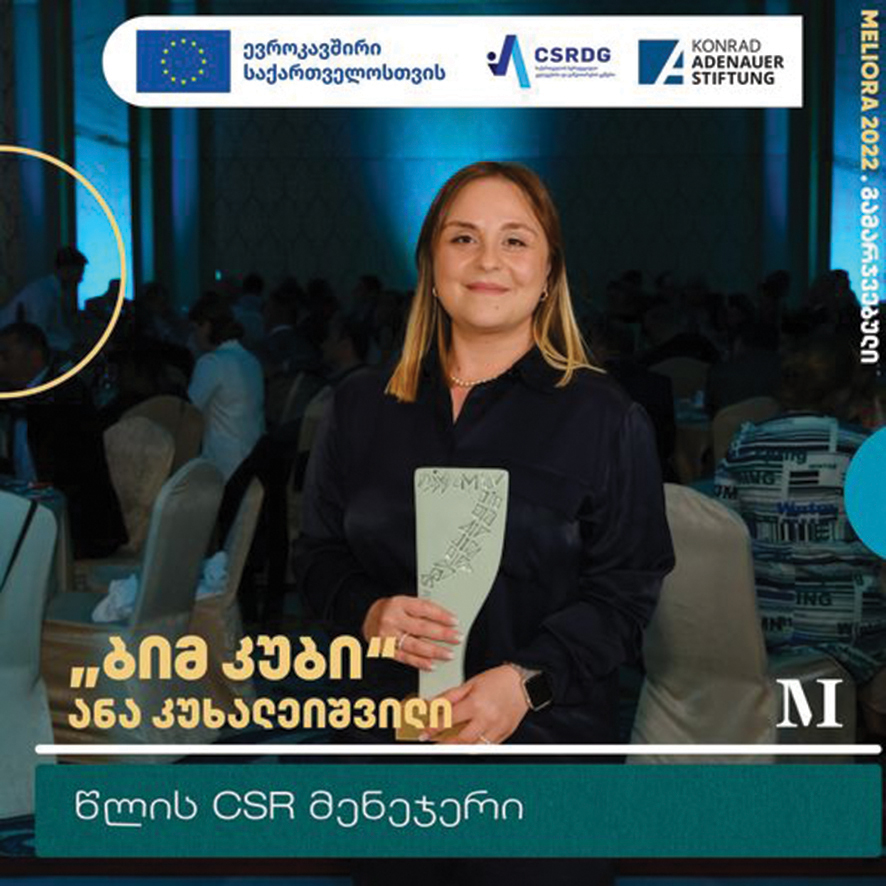 250 people attended the award ceremony, including diplomats, Georgian government officials, local and international experts, and civil society and business representatives.
60 companies participated in the Awards with 88 projects in the spheres of environment protection, ethical business operations, labor rights and community development.

The winners were revealed and awarded in various categories at 'Meliora 2022':
• Green Initiative:
Winner large company – Tegeta Holding, project 'Tegeta for Environment"
Winner SME: "Biodiesel Georgia", project 'Biofuel from Waste – Clean Environment and Energy Independence'
• Responsible Employer:
Winner large company – Majorel Georgia, project 'Feel Good'
• Supporting Communities:
Winner large company – APM Terminals Poti, project 'APM Terminals for Poti'
Winner SME – Edena, project 'Support for Demotivated Women'
• Cross-Sector Partnership – Shared Responsibility:
Winner SME – Qwerty, project 'Supergmiri.ge support'
• Transparency and Report on CSR and Corporate Sustainability:
Winner large company – TBC Bank, project 'Sustainability Report 2021'
• CSR Manager of the Year:
Winner – Ana Kukhaleishvili, company 'BIM Cube'
• Responsible SME of the Year:
Winner – MBC

This year's jury for Meliora 2022 consisted of international (United Kingdom, Scotland, Ireland, Israel, Austria, Norway, Sweden, Lithuania, Latvia and Hungary) as well as Georgian experts from public organizations and academic circles on a local and international level. The Award is supported by 28 organizations from all sectors – local and international business associations, government, international organizations, and the diplomatic corps.
GEORGIA TODAY spoke to Lela Khoperia, Head of the Program on Promoting Corporate Social Responsibility at CSRDG.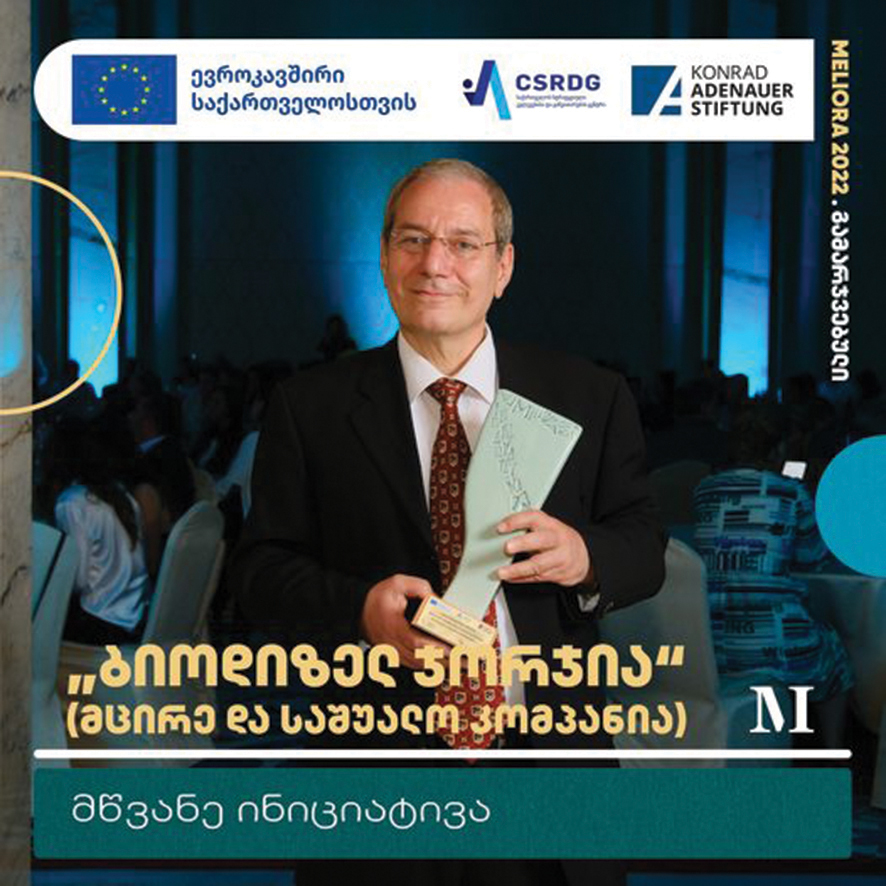 "This year we had a very high number of entries, which indicates that CSR and sustainability is becoming more and more important for Georgian companies. The most forward thinking businesses strive to move beyond mere considerations of business and profit, seeking to deliver transformational change in society and create more value within their organizations, and I hope the Meliora Awards also contribute to this growing interest," she tells us.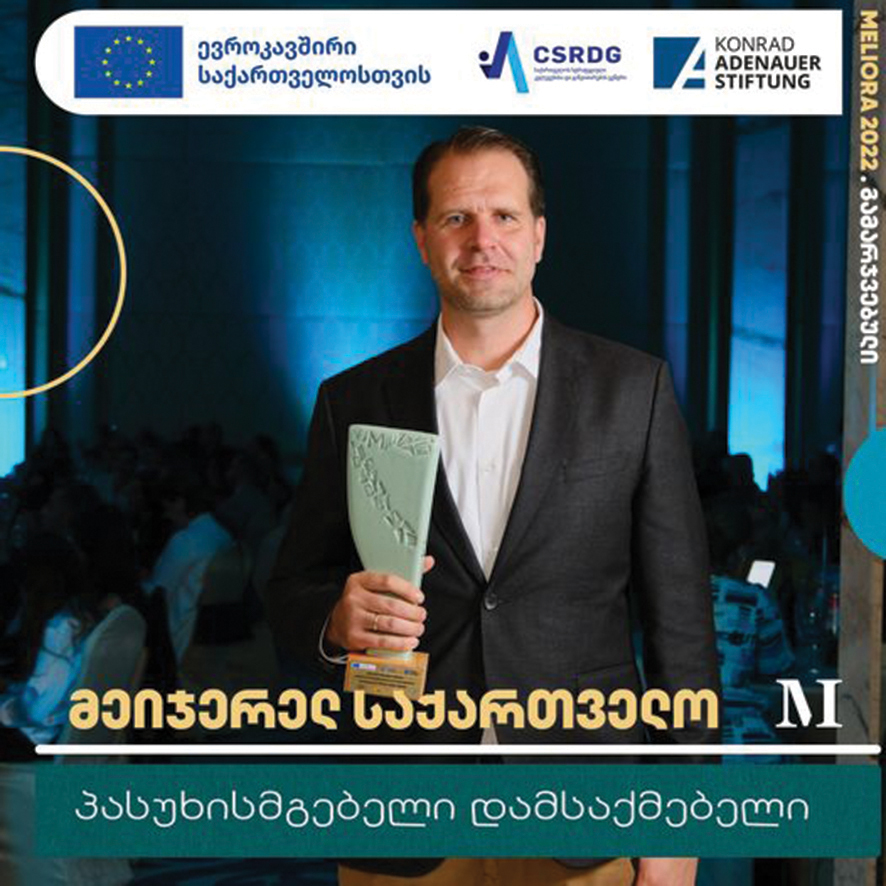 "Meliora has quite a strong development component built-in: apart from featuring the best CSR projects and initiatives, the contest aims to assist companies in developing and sophisticating their CSR programs, strategies and approaches. All participating companies will receive after the awarding ceremony the feedback from all jury members on each submitted project, with recommendations on how to improve their CSR activities and how to make them more sustainable and aligned with best international practices. This is very valuable contribution from our jury members, which are world's leading professionals in the field of corporate sustainability and responsible business conduct," Khoperia notes.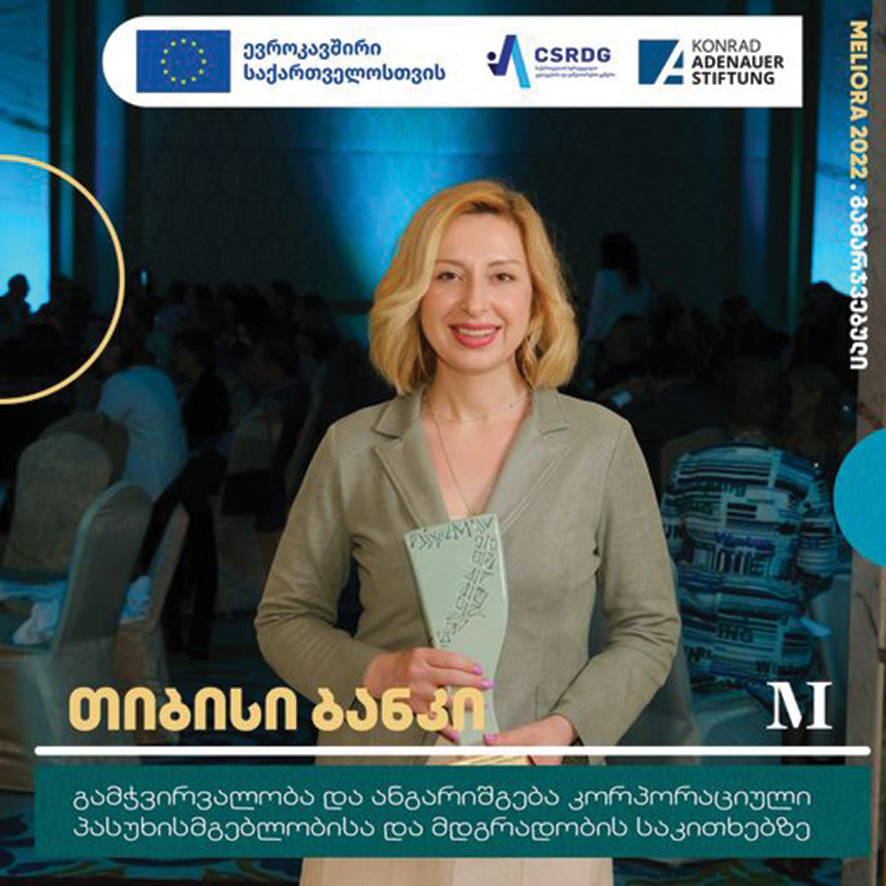 "Apart from this, every year, on the day of the awarding ceremony, we conduct masterclass for Meliora participant companies on sustainability issues. This year we had an extremely interesting masterclass with outstanding speakers: Tomás Sercovich, CEO of the Business in the Community Ireland; Audrone Alijošiute- Paulauskiene, Founder and Director of the Lithuanian Responsible Business Association (LAVA), and Beatriz Alonso, Senior Manager of Sustainability at BBVA Group (Spain). They talked about recent sustainability trends globally, as well as in their countries," Khoperia says.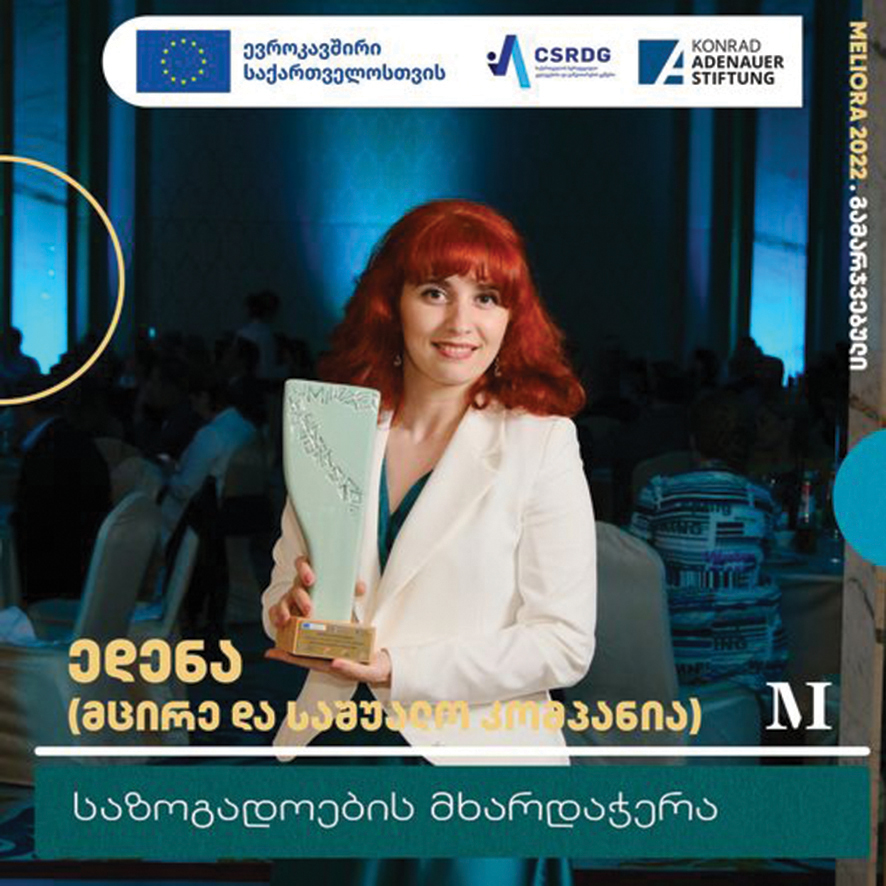 Meliora is organized with the support of the European Union (EU) and Konrad-Adenauer-Stiftung (KAS) funded project 'Civil Society STAR Initiative: CSOs as Sustainable, Transparent, Accountable and Resilient Development Actors in Georgia'. The project is implemented by the Consortium led by the Konrad-Adenauer-Stiftung (KAS) and composed of the following CSOs: Center for Strategic Research and Development of Georgia (CSRDG), Civil Society Institute (CSI), Center for Training and Consultancy (CTC), Education Development and Employment Center (EDEC), and Institute for European Politics (IEP).
By Katie Ruth Davies
[ad_2]
Source link