[ad_1]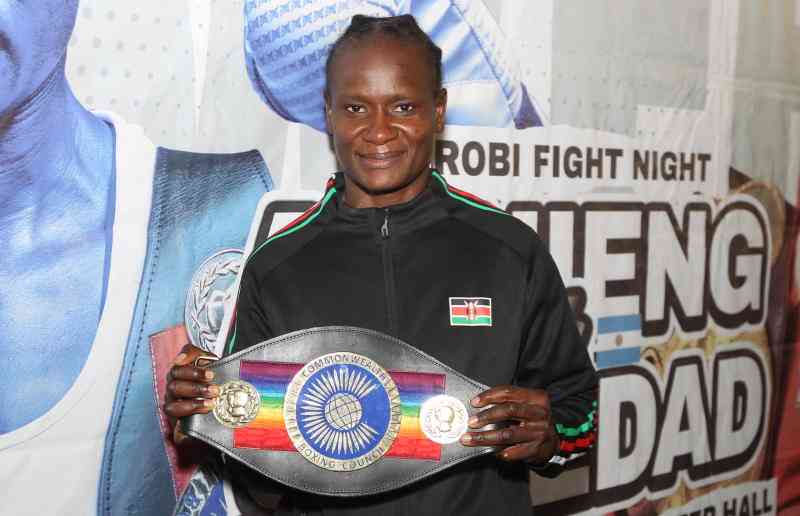 Sarah 'Angel of War' Achieng is set for an epic battle against Edith Soledad of Argentina for the vacant World Boxing Foundation (WBF) Super Lightweight belt at the Charter Hall in Nairobi on June 10.
Achieng has declared that the coveted title will remain at home as she is more than prepared to secure the honours.
"This is my territory, the belt will remain here," the Commonwealth champion told Standard Sports.
"I request Kenyans to turn up in large numbers on the day so we can celebrate this victory together."
The Universal Boxing Organisation (UBO) champion has been training at the Kariobangi Social Hall for the fight since January, she ups her exercises under head coach Priest Analo.
"I have been training everyday like I'm headed for a fight, I can say I'm very much prepared for the clash, I believe I would still win even if the bout was held today, " she said.
Ahead of this fight, Achieng is dedicating her time to read Soledad who is equally a very decorated boxer.
Soledad is a former unified featherweight world champion.
The Argentine held the World Boxing Association  title between 2013-2016 and the World Boxing Council between 2015-2016.
"I'm studying Soledad on YouTube and on her social media accounts so I can understand her style and weaknesses.
"So far I have established that she is a very offensive fighter so we are looking for ways to neutralise that. I'm also working on speed, targets and changing of stance," Achieng said.
Achieng admitted it's been so tricky for her to secure an opponent as it seems most female fighters with titles and their promoters fear her as they are not sure if they could successfully defend the belts when pitted against her.
"I feel they are afraid of my ruthlessness in the ring because I show no mercy, I leave no stone unturned," she said.
While urging Kenyans to turn up for the fight, Kenya Professional Boxing Commission president Reuben Ndolo said this is the best opportunity for Achieng to showcase herself to the world after being short-changed in two global fights recently.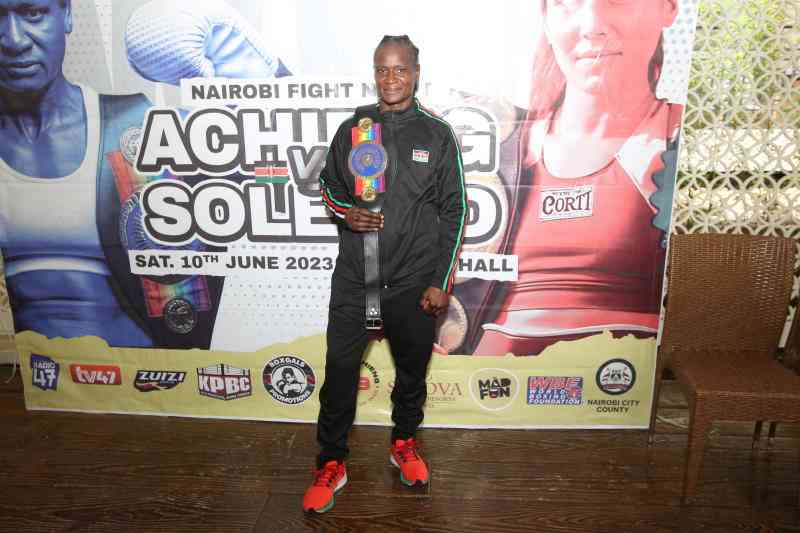 "In February, Achieng was scheduled to go for a title fight in Belgium but the promoter did not meet his end of the bargain," Ndolo underlined.
Soledad is expected to jet into the country on June 5 for the clash.
The Argentine will also engage in Corporate Social Responsibility (CSR) activities in conjunction with the Argentina Embassy to Kenya.
Her fight with Achieng is promoted by Boxgals Promotions in conjunction with Zuizi Sports.
"Achieng is a remarkable boxing talent hailing from Kenya, she may not be the most recognized female pugilist from her country, but she is undoubtedly pound-for-pound, the best to ever emerge from Kenya's rich boxing tradition," David Mugambi of Zuizi Sports stated
"Achieng's exceptional skills, fierce determination, and relentless work ethic have propelled 
her to greatness. Holding an impressive collection of three world titles, she stands as living 
proof of her unparalleled prowess inside the ring.
"Soledad's impressive resume and unwavering dedication to the sport makes her a formidable opponent for Achieng."
[ad_2]
Source link