[ad_1]
Article content
There was plenty of promises made during the local Sherwood Park candidate debate.
Article content
The forum hosted by the Sherwood Park and District Chamber of Commerce at the Community Centre's Agora on Thursday, May 18, offered four different visions for Alberta's future. Since it was a two-plus hour event, here's the quick overview of speech and platform highlights, listed in order from A-Z.
NDP
NDP candidate Kyle Kasawski promised to improve life in Alberta through three key areas: 1) healthcare (through the creation of family health teams, which also provide family doctors to every Albertan within the next few years), 2) affordability (putting a cap back on utility and insurance rates, not increasing personal taxes and no tax for small business that make less than a half million dollars annually), and 3) protecting the Canadian Pension Plan and the RCMP.
Article content
"Above all else, what I've heard at the door is a question about leadership. People here in Sherwood Park don't trust Danielle Smith. She's erratic, she says something one day and apologies almost the next day. We need stable, competent, scandal-free, and I'd like to say even boring, government. We need Rachel Notley, and I'd be honoured and privileged if you choose me to be your Member of the Legislative Assembly.
On one crowd question about if the Alberta NPD aligns with the federal NDP, Kasawski recalled how the Alberta NDP got the TMX pipeline approved while it was in office and that Notley takes her cues from Albertans. He added that he will serve Sherwood Park and that basis of that question is not based in reality.
Article content
Liberal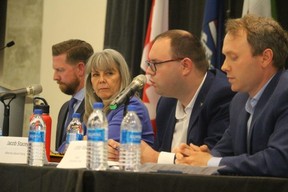 While backing healthcare and education, Liberal candidate Jacob Stacey said he's also advocate for promoting the oil and gas sector, pipeline and refinery expansion, the development of a high technology sector which would include the creation for a semiconductor fabrication plant that would make Alberta a leader in chip manufacturing. Based on spinoff tax revenue from that, he said more funding can go towards building and renovating schools, hospitals, and senior centres, as well as developing more satellite economic institutions throughout the province to train more trade people, teachers, and healthcare professionals.
"The world's a changing. The global economic model is shifting, globalization is ending, and the largest labour force in human history is entering retirement. Costs have raised considerably for insurance, utilities, groceries, and housing," he said. "Albertans deserve actionable responses to these issues. We must adapt accordingly to ensure our long-term economic health here in Alberta."
Article content
Alberta Party
Alberta Party candidate Sue Timanson committed to bringing civility back to the Legislature and to be a voice for Sherwood Park residents at the provincial level. The party platform, which is just a little left of center,  includes supporting a strong economy while providing essential social needs such as healthcare, education, affordable housing, and supports for seniors.
"We need a representative who isn't afraid to stand up for Sherwood Park, who knows Sherwood Park, an MLA who is responsive to her community's needs," Timanson said. "I see the need to have a strong advocate who will work within an atmosphere of respect but will not comprise when it comes to doing the right thing. We have future challenges, including restoring some decorum in the Legislature, that needs to be met head on by someone who cares about this community and has the skills, the knowledge, and the ability to represent you and be your voice."
Article content
Regarding plans to expand the Strathcona Community Hospital to include inpatient services, Timanson said it's critical to the community and even though both the NDP and UCP both support the project, with the latter approving $3 million in planning funding, she said if elected, she'd "make damn well sure that the promises that are being made will be followed through on."
UCP
UCP candidate Jordan Walker said he was proud of his record over the past four years and getting things done in Sherwood Park.
"Two new schools, Sherwood Heights is getting replaced — the NDP never did that while they were in government, I got it done, the K-12 Francophone school is coming, Wes Hosford and St. Nicholas playgrounds grants are done — the NDP never did that while they were in government, I got that done, the hospital expansion is underway — the NDP government when they were in government never got that done, I got elected, it's done," Walker recapped, adding a courthouse replacement progress is also underway.
Article content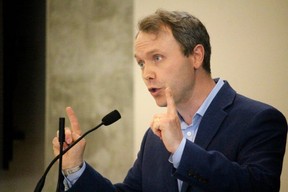 During crowd questions, Walker said the UCP is "studying" the RCMP contract which is up for renewal in 2032 to make sure that Albertans are getting in the best value from it and said, "we might be keeping the RCMP". He also said that the NDP is spinning misinformation about the UCP's stance on pensions because "they're going to lose in two weeks."
He said the UCP is focused on affordability, while the NDP is focused on more taxes and "reckless economic policies. Highlighting that the budget was balanced for the last two years, Walker said the UCP will continue to offer the lowest taxes in Canada.
"The Alberta advantage is back, my friends," he said.
Advance voting continues this week, every day from 9 a.m. to 8 p.m. until Saturday, May 27, and Election Day is on Monday, May 29. To find out the location of your polling station, go to elections.ab.ca.
lmorey@postmedia.com
twitter.com/LindsayDMorey


[ad_2]
Source link