[ad_1]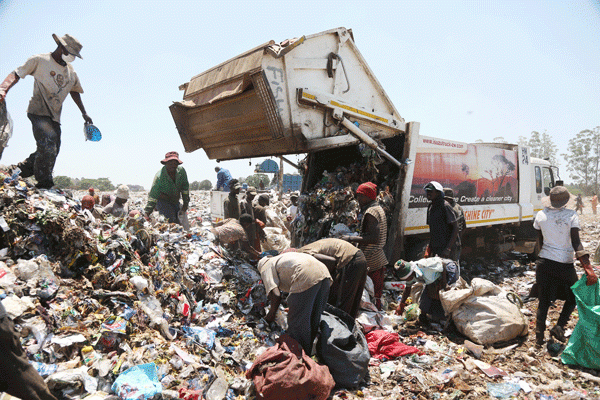 Plastic waste is literally everywhere — in towns, cities, in illegal dumpsites, on street pavements, in people's backyards — just everywhere.
According to the Environmental Management Agency (Ema), Zimbabwe generates more than 300 000 tonnes of plastic waste per year.
A significant proportion of that waste is dumped onto the streets or open areas, rather than recycled or properly disposed of.
Plastic waste is literally everywhere — in towns, cities, in illegal dumpsites, on street pavements, in people's backyards — just everywhere.
It is an eyesore and obviously it is harming the environment.
The consequences of our action or lack thereof, will be felt by generations to come.
Plastic waste clogs sewer pipes, causing sewer lines to burst and spill sewage into the environment.
This waste also clogs storm drains, causing flash flooding during heavy rains.
This provides a breeding ground for waterborne diseases such as cholera and dysentery.
A question then arises as to who is responsible for cleaning up the environment.
Some analysts argue that it is the responsibility of the central government and its agencies to make and enforce policies and regulations on environmental matter.
However, others believe that citizens should take responsibility in the letter and spirit of environmental citizenship.
Yes, the government has for long been playing its part, but the corporate world has not been playing ball.
A few years ago, President Emmerson Mnangagwa declared the first Friday of every month a National Clean Up Day.  That must be applauded!
The National Clean-Up Day was enunciated in the spirit of creating a clean, safe and healthy environment and rides on the background that it is the duty of every citizen to clean their environs.
But what about the manufacturers, who, too often, take little responsibility when the waste they emit ends up on the environment?
It is in the best interest of the manufacturer that they explore ways of reducing waste by accepting the letter and spirit of corporate social responsibility.
Adopting all elements of corporate social responsibility will no doubt promote sustainable development.
The United Nations defines sustainable development as "developmental activities that meet the needs of the present without compromising the ability of future generations to meet their own needs".
Corporate social responsibility is premised on the idea that an organisation should play a positive role in the community it serves and consider the environmental and social impacts of its business activities.
Across the world, corporates are operating within the confines of the law and that they have economic, legal, ethical and philanthropic or discretionary responsibilities.
Economic responsibility — this commitment is anchored on operating efficiently and being competitive and ultimately making money.
However, chasing of economic value can lead to environmental problems unless it considers the long term.
One way for economic responsibility and environmental sustainability to meet is by assigning an economic value to waste.
Delta Beverages is one company that is doing well in this respect because it has waste collection facilities across the country as it pushes the recycling agenda.
Legal responsibility means that an organisation must religiously comply with laws and regulations that protect the environment in an area it operates.
Ethical responsibility means being fair, in accordance with societal expectations. For example, it means a company doing its fair share to prevent and clean up waste.
Philanthropic responsibility is when an organisation goes an extra mile in making a place it operates a better place.
This includes venturing into volunteering, sponsorship and empowerment programmes targeting vulnerable groups.
All these responsibilities operate hand in glove.
However, it must be noted that most companies in Zimbabwe focus on the philanthropic dimension of corporate social responsibility.
They are involved in voluntary clean-up campaigns in communities, and advocate for proper disposal of waste, but that is not enough — this is just treating the symptoms.
They ignore the economic, ethical and legal dimensions of corporate social responsibility with regard to the environment.
If all the stated dimensions of corporate social responsibility are practised to the fullest, then Zimbabwe's waste problem will be half solved.
By adhering to all the aspects of corporate social responsibility, companies will have conformed with some United Nations sustainable development goals of combating climate change, protecting aquatic life and sustainable environment management.
Policymakers, producers, manufacturers, multinational companies and other stakeholders must put all their hands on deck to combat this waste menace in Zimbabwe.
This begins with assigning a monetary value to waste at each stage of its life cycle, including sorting, collection, and recycling.
Disposal practices, monitoring, and enforcement as well as cost management should not be left out.
Miners, producers, manufacturers, and multilateral companies should also reduce waste as part of their production processes.
Based on the extended producer responsibility concept, all manufacturers should be held accountable for their actions.
The concept was a response to the challenges European municipalities faced in managing waste.
The policy sought to shift the burden of managing waste from municipalities and taxpayers to producers.
This concept worked wonders as it brought improvements in the reuse and recycling economy in developed countries such as Germany, where it was introduced a few years ago.
If companies in Zimbabwe can work together with the government and citizens to achieve a high standard of environmental sustainability, we can rightly say they are practising corporate social responsibility.
Zimbabwe is for us all; it is everyone's responsibility to make it habitable — sustainable development is possible.
*Cliff Chiduku is a communications, public policy and governance expert with interests in agriculture and environmental issues. He writes in is personal capacity.  Feedback: cchiduku@gmail.com or Call/App +263775716517.
Related Topics
[ad_2]
Source link