NEWS | FEATURES | PREVIEWS | EVENTS
originally published: 12/31/2022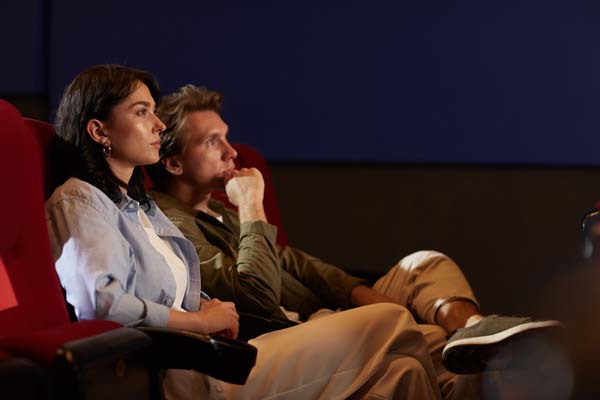 (NEW BRUNSWICK, NJ) — The 41st Bi-Annual New Jersey Film Festival will take place on select Fridays, Saturdays, and Sundays between January 27-February 19, 2023. The Festival will be a hybrid one as they will be presenting it online as well as doing in-person screenings at Rutgers University. All the films will be available virtually via Video on Demand for 24 hours on their show date. From documentaries to shorts to narrative and experimental films, the festival has something for everyone. Here is a preview of the festival.
Friday, January 27, 2023 – The Language I Speak, Vagrant, and Buon Ferragosto
The Language I Speak – Ana Cuadra (Plainfield, New Jersey). The Language I Speak is an exploration about the regional varieties of spoken English in America, how our language connects us as humans, but it can also divide us, how it can box us in categories of race, socio-economics, class and gender. Are dialects and accents something that classify us as talking weird? or something to be celebrated in the new globalized world? 2022; 60 min. 
Vagrant – Giorgio Litt (Beaverton, Oregon). Throughout Italy, dogs are abandoned casually. In rural Sicily, one man saves the dogs he can, especially those being poisoned. In Italian, subtitled. 2022; 20 min.
Buon Ferragosto – Claudia Miatello (Toronto, Canada). When his father has to work on Ferragosto (Italy's national holiday) instead of going to the sea, a boy has the adventure of his lifetime in the city of Florence with an unexpected friend. In Italian, subtitled. 2022; 7 min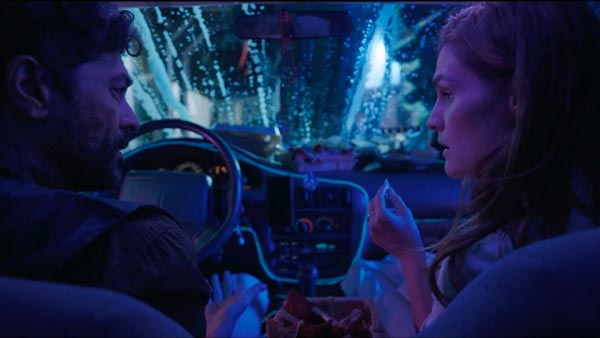 Advertise with New Jersey Stage for $50-$100 per month, click here for info
---
Saturday, January 28, 2023 – City of Love
City of Love – Èric Boadella (Los Angeles, California). 148 Rides. 1 City. 1 Date. 2 Deaths. 1 Miracle. In this neo-noir feature, Spencer, a troubled rideshare driver in Los Angeles, will go to dangerous lengths to reconnect with the world he lost after spending 20 years in jail. 2022; 97 min.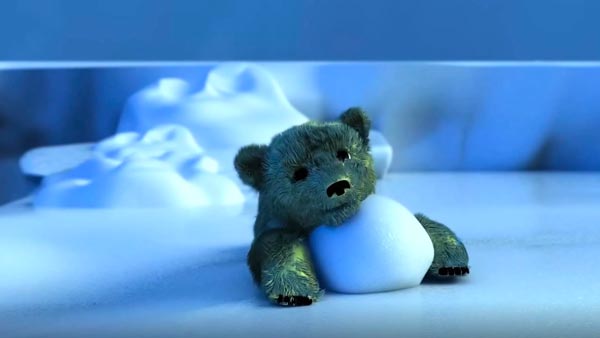 Saturday, January 28, 2023 – Shorts Program #1
A Polar Bear Story – Vanessa Nilsson (Montclair, New Jersey). A Polar Bear Story is a 3D animated short film that comments on climate change and how it is the primary threat to polar bears as the arctic warms and sea ice disappears. The story follows a young, playful, and mischievous polar bear cub whose playfulness puts him in harm's way of melting sea ice. 2022; 4 min.
Fereshteh – Elika Rezaee (Redondo Beach, California). Fereshteh distills the daily reality facing many modern Iranian women, as they enter old age. Alternating between naturalistic observation and imaginative flourishes, this narrative/experimental short film tells a simple story of how an older woman experiences her everyday routine. Since the Islamic Revolution, women in Iran have been required to wear veils in public, but in films, they are required to wear them in indoor settings, as well. This film breaks that taboo of Iranian cinema and shows a woman's body and bodily functions in a private space. This is womanhood as Iranians experience it, not the idealization of the cleric or bureaucrat. Dialogue is kept to a minimum, the form of the film echoing her solitude. Actions that seem unremarkable from the outside are infused with a search for purpose amid all the mundane challenges, absurdities, introspection, and loneliness that structure her existence. It is, to me, a way of living both poetic and awe-inspiring, indeed the life of a Fereshteh – an angel. In Persian, subtitled. 2022; 15 min.
The Pratt in the Hat – Susan Hillary (Goshen, New York). Beneath the brims of hundreds of colorful hats is a woman who shares her wisdom, humor, and personal experiences about being black in America, then and now. Frances Pratt's hats make a bold statement as does her southern charm and pithy expressions which she garnered through a lifetime of service to her community fighting for racial equality, voting rights and education. 2021; 15 min.
When will the warmth come? – Oleksandra Pletenetska (Kyiv, Ukraine). A video diary by the director in which she documents her emotional states during the full-scale invasion of her country – Ukraine.2022; 15 min.
Exposed to Each Other – Mersolis Schöne (Vienna, Austria). Touches are journeys – a film poem about the multi-faceted journey of interpersonal, intercultural encounters. How are we connected with each other? Based on a poetic text collage by Marion Steinfellner, which brings together Indian, Japanese, German, and Austrian texts by Yuko Kaseki, Savita Rani, Mersolis Schöne, and Marion Steinfellner. In English and German, subtitled. 2022; 13 min.
Sympoiesis – Rithikha Rajamohan (Vancouver, Canada). Sympoiesis, meaning "boundaryless" or "making together" is an exploration of co-creation and an attempt to answer the question of where life is trying to go. The film is a recognition that we are as a species just one of many forms of intelligent life, each with its own entangled reasons for being. In an age of self-induced ecological, technological and social collapse, the film is also a comforting reminder that we are no more than adolescents in evolutionary time, a young and fragile species prone to making mistakes, and yet still learning, growing and striving to find its proper place in an inherently symbiotic world. 2022; 5 min.
Marjorie Eliot's Parlor Entertainment Harlem – John Decker (Ocean Township, New Jersey). For three decades, pianist, playwright, actress, poet and composer, Marjorie Eliot, turns her sadness and tragic loss into joyful weekly performances of love and camaraderie in her Harlem apartment. 2022; 8 min.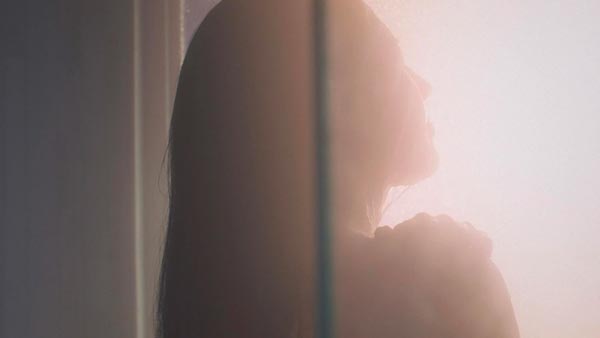 Friday, February 3, 2023 – Shorts Program #2
Voiceless – Cindy Di Xin (Pasadena, California). An international high school girl is trapped in a trauma nightmare that she has never experienced before. In Chinese and English, subtitled. 2022; 15 min.
Advertise with New Jersey Stage for $50-$100 per month, click here for info
---
Bean and the Babysitter – Jason Michael Roberts (Santa Monica, California). Pat, a young woman with big city ambitions takes an overnight babysitting job at a rural midwestern farmhouse. But when the parents don't return, she finds herself solely responsible for the safety and survival of an unpredictable ten-year-old Bean. Miles from civilization, with no way to call for help and resources running scarce, she'll need both the ingenuity of an entrepreneur and the compassion of a mother to unravel the mystery and save the boy. 2022; 20 min.
It is Quiet Here – Olena Podolianko and Novruz Hikmet (Kyiv, Ukraine). A young couple is torn from the world for one long night in a hotel room in a town near the border. That night they agreed not to talk about the war. Completely lost in each other' s small world, they don't realize when the morning comes and force them to go back to reality. 2022; 13 min.
Duplicitous Minds – Robert Rippberger (Toronto, Canada). This film is a crime thriller/drama about the mysterious world of magic, a journey of hypnotism, heists, illusions and fun with many thrilling twists and turns. The entire film is structured like a long form magic trick with hidden clues, symbols and meanings. The theme of the movie is the choice between love (The Queen of Hearts) and power (The Ace). The dichotomy of one man's lust for power (Ace of Spades) and one man's loyalty to love (Queen of Hearts) propels our lead into a labyrinth of traversing a heart torn in two. It's a battle between traditional magic vs digital magic as a Magician and the Artist (a crooked businessman) team up for a heist that turns into a magic trick and an illusion onto itself. 2022; 18 min. 
First Girl – Ellie Konn (Miami, Florida). First times are terrifying. 2022; 8 min.
The Button Game – Drake Woodall (Brooklyn, New York). A brutal display of life in isolation. 2022; 7 min.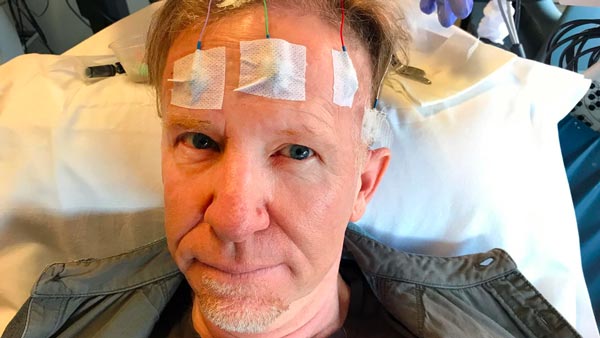 Saturday, February 4, 2023 – Jack Has a Plan
Jack Has a Plan – Bradley Berman (Berkeley, California). When Jack, a man with a terminal brain tumor for 25 years, decides to end his life, his family and friends struggle to accept his decision. Jack's best friend documents his three-year quest to die a happy man, culminating in a permanent going-away party. An amazing documentary that should not be missed! 2022; 73 min.
Saturday, February 4, 2023 – Ocean City Monster Building
Ocean City Monster Building – Chris Lane (Los Angeles, California). The year is 1984, in a small sleepy town in upstate New York. The former mayor of the city is found dead on the backseat of his car with a local 15-year-old girl. In the aftermath, his wife of 30 years and his adopted daughter have to make sense of this difficult situation, while a detective from out of town is sent in to try to solve the case together with local law enforcement. 2022; 90 min.
Friday, February 10, 2023 – Shorts Program #3
Rembrandt Lives in New Jersey – Kasey Child (Burlington, Vermont). Documentary film about the New Jersey based artist Helen Frank. 2022; 12 min.
Man Fire Clay – Michael Callas (Belvidere, New Jersey). An intimate and enlightening portrait of New Jersey woodfire ceramic artist Peter Callas. 2022; 41 min.
Bye Bye Lullaby – Sonali Gulati, Rohan Gulati (Richmond, Virginia). When you are forced to leave your home, what do you take and what do you leave behind? Using a single long take, Bye Bye Lullaby explores the meaning of belonging and belongings, transporting and being transported, passing away and passing down. 2022; 5 min.
Stages of Lost Freedom – Kamran Rosen (Cambridge, Massachusetts). Derek 'Dice' Livingston was incarcerated for nearly two decades, during which time he kept a journal of his thoughts. Mirroring the stages of loss—denial, depression, bargaining, anger, and acceptance— this animation uses Dice's own words and narration to show the emotional journey of losing one's identity to long term incarceration, with each entry brought to life by a different animator. 2022; 7 min.
Sucks To Be The Moon – Tyler March and Eric Paperth (Neptune City, New Jersey). Jealous of the Sun's stardom, the Moon journeys into space, searching for a planet that actually cares about him. Will he find his place in the universe, or is he destined to be a lonely loser forever? 2022; 11 min.
Revelation to the Disembodied – André Silva (Wilmington, North Carolina). Fragments of a collective post-human dream construct a world that straddles hyper-technological, mythological, and ecological dimensions. 2022; 9 min.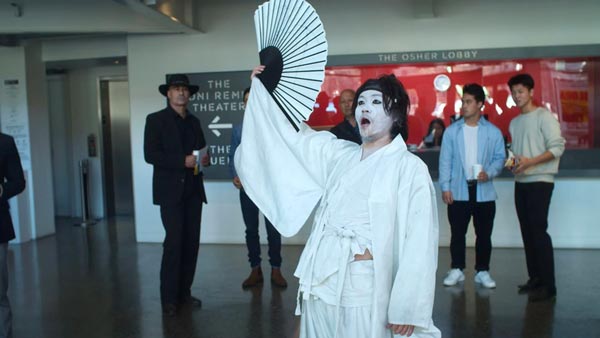 Saturday, February 11, 2023 – Junho
Junho – David Seok Hoon Boo (San Francisco, California). Juhno wanted nothing more than to be a great actor. But when his prestigious acting troupe in Korea is rocked by a #MeToo scandal, he escapes to San Francisco, to start a new life. Unlike Junho's attempt to overcome loneliness, isolation and the loss of his best friend Jin, who was a victim of the scandal, his transgression from the past dislocates him. 2022; 104 min. In English, Spanish, Korean, subtitled.
Friday, February 17, 2023 – In Littleness and Song of a Dying Summer
In Littleness – Cherlyn Hsing-hsin Liu (Santa Clarita, California). The film was shot on a regular 8mm camera and is presented in unslit form as 16mm, a screening format commonly referred to as double 8mm. When I first came into contact with this medium, I was deeply attracted by its miniature size. Eight millimeters is a very small space on which to store images. It reminds me of all kinds of things from childhood: ephemeral, wonderful, changeable. Recalling that as a child I spent most of my time with my nanny, I decided to zoom in on daily life, especially trivial household chores. At the same time, the particles and dust of the childhood world are magnified. During the filming process, I remembered a question asked by Stan Brakhage: When a film is projected, how many frames does an image need in order to make an impression on human vision? In In Littleness, we are asked to watch four images at a time. Each screen only lasts for a moment. The waves of oncoming impressions submerge the viewer in an open and chaotic world, in which a noisy childhood experience is faintly drawn. The memories included in the film are not just from my childhood, but also from childhood memories of people close to me. In the end, what In Littleness treasures the texture of childhoods, overlapping and collective. 2022; 8 min.
Song of a Dying Summer – Kohei Sengen (Tokyo, Japan). Natsu, together with his best friends, is trying to put on a stage play to commemorate their last summer together. Shot entirely with 8mm film. In Japanese, subtitled. 2022; 71 min.
Saturday, February 18, 2023 – United States Super 8mm Film & Digital Video Festival Day 1/Program 1 – Short Films
Achilles – Adam Morris (Southend-on-sea, England). Even the legendary Achilles has moments of self-doubt. Achilles explores the Achilles syndrome, known as the fear of failure. An experimental micro drama shot on Super 8mm film with no editing. 2022, 3 min.
Emoticon – Padrick Ritch (Boston, Massachusetts). An experimental film examining the impact and influence of media. 2022; 2 min.
Teething Problems – Kristian Fitsall (London, England). Tired of her housemate stealing her toiletries, Darcy takes a twisted revenge in this darkly comic parody of a 'How To' video. A dark, absurd comedy micro short shot on Super 8mm film with no editing. 2022, 3 min.
Exponentials – Khalil Charif and Cristina Amiran (Rio de Janeiro, Brazil). Through different languages, this experimental work uses sound and visual poetry, presenting images with a non-linear flow of words in a context of exponential equations, making integrated use of the word, the meaning of the word, and the sound of the word. 2021; 3 min.
broken home movies – Heidi Van Horne (Buda, Texas). A B&W experimental, avant-garde short film reflecting on the choice of motherhood. 2022; 4 min.
Reclamation – Jennifer M Hardacker (Forest Grove, Oregon). A stark, experimental film. A mood. Exploring our fears of Armageddon, our lived isolation, and the haunting beauty of nature's persistence. 2022; 4 min.
Triboro – Nate Dorr (Brooklyn, New York). A trip behind and beneath the street-level skin of the city on the hidden paths of industrial history and once-and-future transit. The Triboro Line is a 24-mile freight rail spanning New York City from the Brooklyn Army Terminal in Bay Ridge, Brooklyn, to Co-Op City in the Bronx. Once largely a passenger line, then serving only reduced intermittent industrial use for decades, the rails have again become the focus of efforts to restore crosstown commuter service to the lower eleven miles of track. Spanning seasons, hours, and changing weather in gliding tracking shots composed of thousands of still photographs, Triboro collapses time and space just as new transit options, inscribed into the ever-changing urban landscape, bring distant parts of the boroughs closer together. (Caution: contains flicker effects) 2022; 7 min
From Above – John Heins (Broomfield, Colorado). A woman encounters a UFO which ejects some material, including an odd crystal. She fashions it into a necklace which leads to a strange turn of events. 2022; 4 min.
The Winter Fern – Gwen Gottlieb (Alpine, New Jersey). When a woman in 18th century Colonial America can no longer endure her husband's abuse she will stop at nothing to save her daughter from his wrath. 2022; 9 min.
Egypt – Erik Jacobsen (XXX). Egypt is a travel documentary written and narrated by Erik Jacobsen. It features photos from his two trips to Egypt, local indigenous music, and fascinating historical facts from research into this amazing and long, lived civilization. It includes some of the most iconic artistic works and monumental structures of ancient Egypt. 2022; 10 min.
A Potter's Field – Zev Aaron (New York, New York). Documenting the suppressed and repressed death network of New York City's COVID-19 emergency, A Potter's Field uses natural and technological imagery and sound to reveal a taboo: pandemic corpses stored in refrigerated trailers are transported by truck and ferry to Hart Island, a beautiful natural landscape and mass grave run by Department of Correction (employees and) inmates enacting a process that has entombed one million New Yorkers in the largest single, spatially considered, gravesite in the world. Shot amidst a city lockdown, the film immanently creates a memento mori by avoiding the live human form and seizing in invisibility thousands of vir(tu)al pandemic corpses. 2022; 16 min.
Once I passed – Martin Gerigk (Krefeld, Germany). A lovely collage animation film based on Walt Whitman's poem Once I Passed Through a Populous City which features the collage work of Serbian artist Nikola Gocić. 2022; 10 min.
Advertise with New Jersey Stage for $50-$100 per month, click here for info
---
Place in Eden – Ruth Weil (Tel Aviv, Israel). A young actress embarks on a turbulent journey with an autistic girl, breaching limitations of right and wrong, and discovering new aspects of her personality. In Hebrew, subtitled. 2022; 15 min.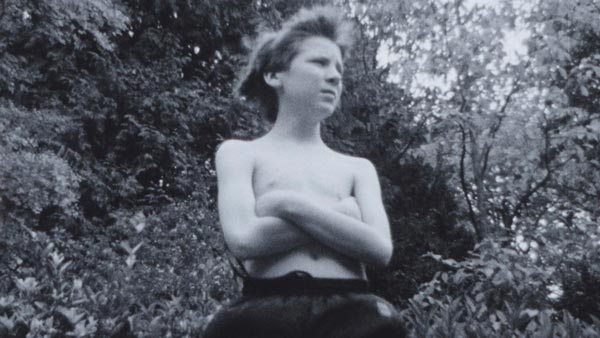 Saturday, February 18, 2023 – United States Super 8mm Film & Digital Video Festival Day 1/Program 2
Sam Now – Reed Harkness (Seattle, Washington). Filmed over 25 years, two brothers go on a 2,000-mile road trip to solve a family mystery. Shooting on nearly every camera format imaginable, from hand-developed Super-8 film to Arri 4K, Sam Harkness and his older half-brother Reed use their creative world of fiction filmmaking to dive headfirst into dealing with the issue at hand: Sam's mom is missing. Sam's wetsuit and mask wearing alter ego, The Blue Panther, bounds into frame with youthful energy and a heroic spirit of adventure. But can The Blue Panther save the day? And are these fun-loving brothers actually ready for what lies ahead? Solving the mystery of his mom's disappearance is only the beginning of their story. The documentary uses a hybrid narrative approach, drawing from a vast archive of fictional films, home videos, intimate family interviews and vérité scenes from over the decades. Sobering revelations blend with playful home movies and vibrant experimental filmmaking by brother and director Reed Harkness. The brothers take a spontaneous road trip in search of answers. We learn of Sam's mother Jois' complicated adoption history from Japan. We experience the ripple effects on the Harkness family including Sam's brother Jared, father Randy and grandma Doris. And we are there with Sam coming of age from 11 to 36. Sam Now is about growth. The film balances heavy themes and emotional reckonings with buoyant energy and lighthearted spirit. The optimistic teenage Sam we get to know, with his heart set on finding his mom, grows into a man whose new hope is to break the cycle of intergenerational trauma. 2022; 86 min.
Sunday, February 19, 2023 – United States Super 8mm Film & Digital Video Festival Day 2
Spontaneous Artifacts – David Finkelstein (Brooklyn, New York). Two actors improvise an extended dialog, examining the way that we record and organize our experiences, and the dangers inherent in creative expression. Their words inspire a series of complex, unfolding landscapes, meticulously rendered in 3D animation, and a multi-layered musical score. Like archeologists of the unconscious, their explorations unearth images from their imaginations, as well as from our shared, cultural legacies, giving rise to vistas filled with clocks, flying pizza pies, pyramids, tarot cards, and myriad other artifacts. By turns ecstatic, reflective, illuminating and elegiac, these visually sumptuous explorations draw the viewer into an inner landscape. 2022; 77 min.
How to Behave At A Party – Allison Radomski (Longmont, Colorado). Do you feel weird around other people? Are you anxious at social gatherings? Do you often find yourself trying to seem like a normal, happy person, and then coming up short? Look no further, my friend. Even though I've never, ever had those problems in my whole life, this short film is here to help. 2022; 2 min.
Scum Show – MaLo Sutra Fish and Marie-Laure Cros (Paris, France). This music video for OSEES's Scum Show was shot at Le Trianon in Paris during OSEES' show on June 29th 2022, on Tri-x Super8 with a Canon 514 XL-S and a GAF 415 XLM. The reels were hand processed at the Collective Lab L'Etna. The film was pre-edited and animated, colored, and special effects were also processed by hand; digitally edited. Long live Punk Spirit! 2022; 2 min.
Each ticket or Festival Pass purchased is good for both the virtual and the in-person screenings. The in-person screenings will be held in Voorhees Hall #105/Rutgers University, 71 Hamilton Street, New Brunswick, NJ beginning at 5:00pm or 7:00pm on their show date. General Admission Ticket: $15=Per Program; Festival All Access Pass=$100.
Source link